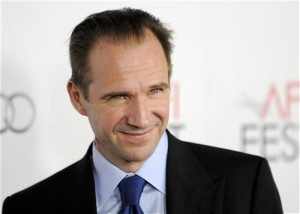 British actor-directors Ralph Fiennes and Kenneth Branagh will be honored at the British Independent Film Awards next month for their contribution to movies.
Fiennes, who recently directed his first feature "Coriolanus" in which he also stars, will receive the Richard Harris Award for contribution to British film by an actor.
He is best known for Oscar-nominated performances in "Schindler's List" and "The English Patient," and most recently as the evil Lord Voldemort in the blockbuster Harry Potter franchise.
Previous recipients of the prize have included John Hurt, David Thewlis, Bob Hoskins, Jim Broadbent, Daniel Day-Lewis and Helena Bonham Carter, who won in 2010.
Branagh, a renowned Shakespearean actor on stage and the big screen, will pick up the Variety Award for focusing the international spotlight on British cinema.
He enjoyed commercial success as director of this year's "Thor" and also appeared in the Potter series.
The Variety Award was previously won by Michael Caine, author J.K. Rowling, Helen Mirren, Richard Curtis, Michael Sheen and Keira Knightley among others.
The British Independent Film Awards, sponsored by Moet & Chandon champagne, will be held in London on December 4.
Three films lead the nominations with seven apiece — "Shame" about a sex-obsessed bachelor in New York, "Tinker Tailor Soldier Spy" based on the Cold War spy classic and "Tyrannosaur," Paddy Considine's directorial debut.
LONDON (Reuters) -  (Reporting by Mike Collett-White)