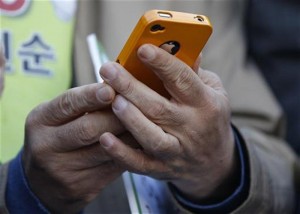 Traditional paper business cards are still the status quo but a redesigned
iPhone
app is helping them go digital.
CardMunch
, which was relaunched after it was bought by the online professional network LinkedIn, lets users snap photos of business cards and transforms them into digital contacts.
It also gathers additional information about the person from LinkedIn.
"Business cards are the first point of interaction when you meet someone at a conference or event," said Sid Viswanathan, co-founder of CardMunch, and now a product manager at LinkedIn.
"But imagine a world where you can scan that card and find out everything that LinkedIn has to offer on that particular individual. We're showing you more than what's on that physical card."
After scanning a card, contact details are digitally transcribed, along with additional information from LinkedIn, such as the person's career history, education, skills, and mutual contacts. The app also pulls in the contact's photo.
"If you have a stack of cards and you're trying to put a name to a face, this is the first piece of data that LinkedIn can offer to help you solve that," he explained.
So far 1.8 million business cards have been scanned worldwide using the app, which Viswanathan said is targeted at professionals who meet people as part of their job.
Viswanathan said there are still accuracy issues with optical character recognition (OCR) technology to automate the transcription process, so the company relies on Amazon's Mechanical Turks marketplace of workers who complete tasks that computers aren't yet able to do well.
When the business card is uploaded by the user, it is automatically placed on the Mechanical Turk marketplace to find a worker who will transcribe it. But the company said it is also evaluating other technologies.
Because of the manual entry there is a delay between the time the business card is snapped and when contact information is ready within in app.
"We are always evaluating what we can do to speed up the experience for our users, while continuing to guarantee accuracy," said Viswanathan.
CardMunch is free. A similar app called ScanBizCards is also available for both iPhones and Android devices. It previously relied on OCR, but recently announced a manual transcription option using an in-house transcription team rather than Mechanical Turks to increase privacy.
TORONTO (Reuters) – By Natasha Baker