Barney Frank
announced his retirement from
Congress
Monday, leaving fellow Democrats without their foremost defender of a landmark financial-regulation overhaul that
Republicans
and Wall Street groups want to repeal.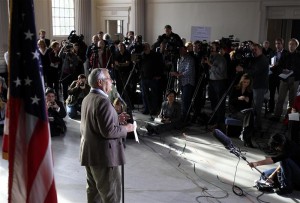 Elected to the
House of Representatives
in 1980, Frank was one of the first openly gay politicians to serve at a national level. In an era of carefully crafted political images, he has stood out for his rumpled demeanor and scathing wit.
"Trying to have a conversation with you would be like trying to argue with a dining room table," he told a detractor in 2009.
Frank, 71, said his decision was spurred by the difficulty of running for re-election in a newly redrawn district and his desire to spend more time writing and teaching. He has said to several aides that he did not want to die in Congress.
Democrats expect to keep Frank's seat as they try to win back control of the House from Republicans in the November 2012 elections.
But his departure could make it harder for his party to hold on to the ambitious reforms that marked President Barack Obama's first term in office, or to maintain a strong government role in the housing market as Republicans gear up for an overhaul of the mortgage market.
Obama praised the 16-term congressman for his co-authorship of "the most sweeping financial reform in history" aimed at preventing Wall Street excesses that fueled the 2007-2009 financial crisis and the worst recession in decades.
Not everyone agreed. "Good riddance," said Gary Townsend, chief executive of Hill-Townsend Capital, a Maryland-based firm that invests in financial stocks.
Townsend called the financial regulatory overhaul a disaster that "constricts the plumbing of the financial system at the exact time we need robust financial institutions."
With then-Senator Christopher Dodd, Frank led the comprehensive overhaul of Wall Street regulations that passed last year despite little Republican support.
Republican presidential candidates say the Dodd-Frank Act places new burdens on the economy while the unemployment rate is stuck at 9 percent, and have vowed to repeal the law even as regulators are still putting it into effect.
Frank has fended off efforts to weaken the law's consumer protections, but has shown an openness to some of the banking industry's complaints. Earlier this year, he said a new crackdown on debit-card fees was too harsh.
SHARP ELBOWS, BUT PRAGMATIC
An advocate of affordable housing, Frank would have had a hand in efforts to reshape the government-owned mortgage buyers Fannie Mae and Freddie Mac.
House Republicans have been trying to unwind the enterprises, but the administration and other policymakers have warned against removing support too quickly given the weak state of the housing market.
Representative Maxine Waters, an even more vocal critic of Wall Street, is next in line to succeed Frank as the top Democrat on the Financial Services Committee, which oversees the economy, housing finance, and the Federal Reserve and other major financial regulators.
"Even though he has sharp elbows and wasn't afraid to use them, I also think there is more of a pragmatic side than some people who may succeed him," said Brian Gardner, a Washington analyst with Keefe, Bruyette & Woods.
Waters faces an ethics investigation following allegations that she broke House rules by trying in 2008 to help a bank in which her husband served on the board of directors.
Frank survived an ethics scandal in 1989 after he admitted hiring a prostitute as a personal aide. Frank apologized and said he had never used official funds.
Frank became the 16th House Democrat to announce he would retire or run for another office next year, twice as many as the number of Republicans. Frank's suburban Boston district has become more conservative since it was redrawn this year, but one political handicapper said Republicans were unlikely to wrest it from Democratic control.
"This is one of those retirements that isn't going to give Democrats headaches," said Nathan Gonzales of the nonpartisan Rothenberg Political Report.
Republicans conceded that they weren't likely to win Frank's seat, but said his retirement is a sign that Democrats do not expect to win back control of the House.
James Segel, a former aide, said Frank felt that he had accomplished what he wanted to accomplish in Congress and enjoyed it less now that Democrats are in the minority.
Frank said he would spend his time defending financial reform and pushing for a reduced military commitment.
"There is no way I will be a lobbyist," he told a news conference in Newton, an upscale Boston suburb.
Frank, who publicly acknowledged his homosexuality in 1987, told Reuters in March that he would like to write a history of the gay-rights movement.
"He has brought his own brand of brashness, boldness, unmatched wit, discipline and skill to Capitol Hill, at times ingratiating and infuriating friend and foe alike," the National Gay and Lesbian Task Force said.
By Andy Sullivan and Svea Herbst-Bayliss
(Reuters) – (Additional reporting by Thomas Ferraro, Dave Clarke, Rachelle Younglai and Richard Cowan in Washington, and Rick Rothacker in Charlotte; Editing by Vicki Allen and Ross Colvin)