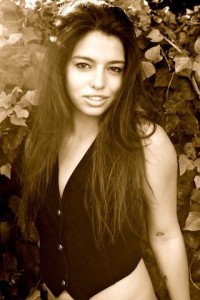 Mollie Thomas has had a lifelong commitment to fostering acceptance for the LGBTQ community and assisting people in developing nations. Now, she is excited to be the first openly lesbian woman to run for Miss California USA. The campaign, which started on Sept. 12, has been gaining media attention, from an international podcast to a local fashion magazine. Thomas is running as "Miss Abbey West Hollywood,"and receiving strong support from Los Angeles gay community. Her greater goal is to make a positive impact on issues like bullying and poverty by speaking out as well as volunteering in international humanitarian efforts.
"I'm working hard to break down many of the outdated lesbian stereotypes, and create more positive LGBTQ visibility in the media."
Thomas is a humanitarian who has had the opportunity to travel the world and be exposed to a great deal of different cultures. During these trips she, has worked with handicapped children in Mongolia, volunteered at an elephant reserve in Thailand and worked with Habitat for Humanity to rebuild homes after Hurricane Katrina in New Orleans. Her path to California has been a life changing experience and she is honored to continue that experience through Miss California USA.
The Miss California USA pageant is taking place the weekend of Jan. 6 in Palm Desert, CA. For more information about Mollie Thomas, or to support her campaign, please visit www.facebook.com/MollieThomasForMissCA.
LOS ANGELES — Nov. 23, 2011 –###
For More Information:
Ginger Orsi
Campaign Manager
818-631-3889
gingorsi@hotmail.com