Owen Keehnenâ??s career interviewing the LGBT communityâ??s best and brightest began 20 years ago, when he worked at The Unabridged Bookstore in Chicago:  â??One of the first times I was scheduled to host an authorâ??s event the turnout was nil.  To cover the awkwardness of the situation I boldly pulled out a notebook and asked [author] Bert Herrmann if I could interview him for a local paper,â? he wrote.  â??The following day I sold the interview to Chicago Outlines, a local LGBT paper.â?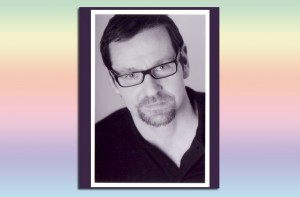 â??I enjoyed the experience.  Bert Herrmann was an interesting guy, it was an added bit of income, and I got a byline to boot,â? Keehnen added.  â??Soon I was calling publishers and asking what LGBT authors were coming to town and appearing elsewhere….In mere months publishers and publicists began calling me to try to get word out about this authorâ??s book or that authorâ??s upcoming appearance or some project that needed coverage.  Then I started moving beyond authors into activists and other folks of interest to the LGBT community.â?
Over the next few years, Keehnen did â??hundreds of interviews.â?Â  Soon this â??journalism sidelineâ? made him famous and his interviews appeared in queer publications across the USA.  Two decades later, Keehnen collected over 100 interviews in a book he gave the activist title Weâ??re Here, Weâ??re Queer (Prairie Avenue Productions; 486 p.; $19).  This bookâ??s lengthy subtitle says it all:  â??Chatty discourses with Hot Dykes, Drag & Assorted Queens, Butch/Femme, Cultural Outlaws, HIV/POZ, In Your Face Pornographers, Multi-Racial Queers, Transgressive Photographers, Spiritual Seekers, His and Herstorians, Family Makers, â??Zine Creators, Masters & subs, Sitcom and Music and Slasher Folks, Street and Courtroom Activists, Movers and Shakers, Risk-Takers, Instigators and more.â?
These â??chatty discoursesâ? are arranged in alphabetical order by subject, ranging from Paul Adams to James D. Woods. In between the reader will find interviews with Dorothy Allison, Kate Bornstein, Quentin Crisp, Emma Donoghue, Jack Fritscher, Jewelle Gomez, Harry Hay, Janis Ian, Paul Monette, Jack Nichols, Camille Paglia, Ru Paul, Michelangelo Signorile, Pussy Tourette and Edmund White, just to name a few.  Though most interviews took place in â??the Gay 90s,â? some are as recent as 2005.
How did Owen Keehnen get all those people to sit down and talk to him?  â??Iâ??m pretty friendly,â? he replies. â??Plus, theyâ??re pushing a product so it was in both our best interests to chat. For the most part the publicists loved me because I was always excited about their authors and books. Most LGBT publicists in those days had several clients and I became known for doing the work, making it pleasant, and getting it out there — so they started calling me, sending me books. The authors liked me because I always read the book and would ask informed questions. It was a matter of building a reputation.â?
Keehnen admits that he â??lovedâ? interviewing our communityâ??s heroes and giants. â??I was a budding writer so for me talking one-on-one with all these folks, the giants and the up-and-comings and the in-betweens was great. I was also an activist so all that was a big interest of mine.  It was literally being paid to get advice and tips and talk about writing or to talk with really fascinating people about activism in whatever form. With the writers especially I always found it fascinating to read the books and then be able to ask about the process.  I wasnâ??t a tough interviewer but I was an enthusiastic and informed one. Eventually the publishing world changed a lot, I lacked computer skills, I stopped working in the book industry for a bit, and got disconnected. Every once and a while I will do an interview, but mostly itâ??s through someone I know.â?
As an interviewer, Keehnen â??wanted to capture a bit of the person and the way they approached their art or their lives.  My goal was to reveal. I didnâ??t want to do a mere press release for the book or the movie or whatever. I liked to dig deeper regarding the process. I wanted to get into to how the interviewee wrote, what compelled them to perform or write or be an activist or whatever.  I was called an interviewer/therapist more than a few times.â? Keehnen admired his subjects, or at least their achievements, and deliberately avoided asking hard questions. â??I wanted to learn about them and a lot of times that meant having them open up.  For me I tend to have a better time with that by being nice.â? Even when the subject was reticent or difficult, Keehnen would attribute it to his or her shyness or exhaustion, or the introversion that is typical of most writers.
Keehnen is also known for his interviews of gay adult performers, which he collected in STARbooks Pressâ??s popular Starz series.  These differ from Keehnen other interviews, he admits, in that â??the research for the porn interviews required a lot less reading.â? The â??XXX guysâ? in Keehnenâ??s Starz interviews â??were sort of pushing themselves as a product so a lot of times you didnâ??t get much more than the product being sold. Sometimes the guys opened up but for the most part you would get the porn persona. Also I think the writer and activist interviews cover a lot more ground, while doing four books of interviews with porn stars is a little more limited in scope.â?
Keehnen dedicates Weâ??re Here, Weâ??re Queer to the late John Preston (1945-1994), â??who opened the door.â? Preston, whom Keehnen calls â??the most inspiringâ? of all his subjects, â??was an amazing man and a wonderful writer.â?Â  (Full disclosure: I knew Preston and contributed to two of his anthologies; and I agree with Keehnenâ??s assessment of the man.) â??Preston was a mentor. He did so much for me and for a lot of newer writers. He was the definition of what it means to be a part of a writing community and Iâ??ll never forget the confidence he had in me. It was definitely a game changer.â? Perhaps, the interviews in Weâ??re Here, Weâ??re Queer will be a â??game changerâ? for a new generation of LGBT writers and activists.
by Jesse Monteagudo