A conservative religious group may proceed with a lawsuit seeking to overturn
New York
's new law legalizing same-sex marriage, a state judge has ruled.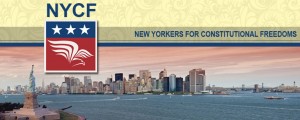 New Yorkers for
Constitutional Freedoms
, a non-profit advocacy group founded by Christian clergy, said that closed-door talks between Governor
Andrew Cuomo
and Republican State Senators over the hotly-debated law, which passed in June, violated a statute requiring most meetings involving elected officials to be open to the public.
The state's Open Meetings Law exempts "deliberations of political committees, conferences and caucuses," which the state argued included the Senate's meetings with Cuomo. The Christian group said Cuomo's presence made the meetings distinct from legislative conferences.
"Clear arm-twisting by (Cuomo) on the legislature permeates this entire process," Wiggins wrote in a November 18 decision allowing the group to proceed with the Open Meetings claim.
But Wiggins dismissed the remainder of the group's arguments, citing his inability under the separation of powers to weigh in on Senate rules.
New York is the sixth and largest state in the country to allow same-sex couples to wed. The measure easily passed the Democrat-dominated State Assembly, but required weeks of closed-door debate in the Senate, where Republicans hold a two-seat majority. That included one-on-one meetings with Gov. Cuomo, a Democrat and strong supporter of gay marriage. Ultimately, four Republican senators voted in favor of the law.
By Dan Wiessner