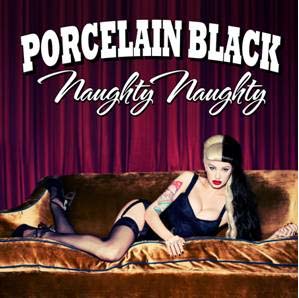 A strong live performer, Porcelain Blackâ??s dynamic stage show is both sonically and visually compelling, featuring creative costuming, choreographed dance routines, microphone whipping and Porcelainâ??s signature mix of pop vocals meets metal inspired growl.  Her reputation as a performer to watch was enforced by early press reviews and profiles, with the Detroit News noting, â??Black is manifestly entrant in post-Gaga edgy pop lotteryâ? and praising her â??big personalityâ? while US Weekly.com christened her a â??â?¦pop rock divaâ? and declared, â??Porcelain Black is already making quite a statement with her shocking two-toned  hairâ?¦â?.
Signed to Grammy Award winning, super producer RedOneâ??s 2101 Records/Universal Republic, Porcelain Black, who describes herself as the result of crossing Britney Spears with Marilyn Manson, will release her debut full length album in early 2012. The new single, the RedOne produced â??Naughty Naughty,â? a dance-pop anthem, is available on iTunes starting Dec 13.
Talking about â??Naughty Naughtyâ?, Porcelain Black said, â??Naughty Naughtyâ? is about empowerment of women. I think that all girls should try to be that girl that plays the player.â?
The â??Naughty Naughtyâ? release also features remixes by Red One, Mr. Mig, R&G and DJ Kue.
Porcelain, whose talents expand beyond music, can next be seen in New Line Cinemaâ??s film adaptation of the smash hit Broadway musical â??Rock of Agesâ? directed by Adam Shankman (â??Hairsprayâ?). The movie musical, in theatres June 2012, stars Julianne Hough (â??Burlesqueâ?), with actor/singer Diego Boneta in his feature film debut, Oscar® nominee Paul Giamatti (â??Cinderella Manâ?), Russell Brand (â??Arthur,â? â??Get Him to the Greekâ?), R&B queen Mary J. Blige, Academy Award® winner Catherine Zeta-Jones (â??Chicagoâ?), with Oscar® nominees Alec Baldwin (â??The Coolerâ?) and Tom Cruise (â??Born on the Fourth of Julyâ?).
[youtube u200IZM6Yqc]