Former
Penn State
assistant football coach
Jerry Sandusky
on Tuesday abruptly waived his right to a preliminary hearing on sex abuse charges, meaning his case will go straight to trial.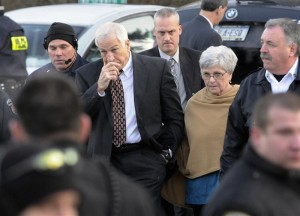 No date has been set for a trial, which could be several months or even over a year away.
Sandusky, 67, has maintained his innocence on 52 charges of molesting 10 boys over more than a decade. The scandal over the sex abuse allegations has rocked Pennsylvania State University and the multi-billion dollar world of college athletics.
"We are not in any way conceding guilt. Today's decision was a tactical measure," Joe Amendola, Sandusky's defense attorney, told reporters outside the courtroom.
Tuesday's hearing had been expected to determine whether there was enough evidence to bring Sandusky for trial.
"The decision is surprising," Pennsylvania Deputy Attorney General Marc Costanzo said of Sandusky's waiving the hearing. Costanzo said that prosecutors had 11 witnesses — including some alleged victims — ready to testify that Sandusky was a serial child sex abuser.
Sandusky's decision immediately prompted speculation that he may seek a deal to plead guilty in return for a reduced prison sentence.
"I think the chances are really good" of a plea bargain, said Slade McLaughlin, a lawyer representing Victim One, whom Sandusky is alleged to have abused more than 20 times in 2007 and 2008.
But Costanzo said there is no talk of such a deal at this point.
It was high drama in the packed Bellefonte, Pennsylvania, courtroom when, moments before the hearing was scheduled to begin, Amendola requested a meeting with the judge.
Audible gasps were heard when the announcement of the waiver was made.
Sandusky, in a dark suit, was lead out of the back of the courthouse in handcuffs and paused to address reporters:
"We fully intend to put together the best possible defense that we can do, to stay the course, to fight for four quarters … We want the opportunity to present our side," Sandusky said as he emerged from the courtroom.
Costanzo said the waiver "helps the prosecution in a lot of ways," and that Sandusky's alleged victims would avoid having to testify twice in the case.
The attorney for the boy identified in court documents as Victim 6, said Sandusky's legal strategy left him with mixed emotions.
"I would have liked these boys to have the opportunity to tell their story so the public would have had the benefit of assessing those boys and that they are giving testimony from their hearts," said attorney Howard Janet.
Sandusky is the focus of a wide-ranging investigation of alleged child sex abuse over a 15-year period. The original charges were outlined in a 23-page grand jury report in early November, and additional charges have been filed.
Two former university officials have also been charged in an alleged cover-up of Sandusky's activities, and have professed their innocence.
Penn State's board of trustees in November fired legendary football coach Joe Paterno and the prestigious university's president as part of the fallout from the scandal.
Sandusky will be formally arraigned on the charges on January 11, judge Robert Scott said.
By Mark Shade and Dave Warner
BELLEFONTE, Pa (Reuters) – (Writing by Ros Krasny; Editing by Greg McCune)