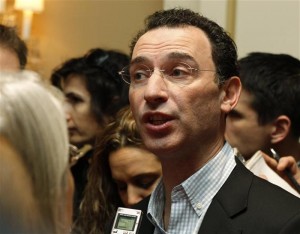 "Work It," the cross-dressing comedy despised by critics and transgender activists, has been pulled from ABC's schedule after just two episodes.The show followed Tim Allen's "Last Man Standing" on Tuesdays at 8:30. "Last Man Standing" repeats will air in the show's place for now.
The show's absence could create an opening for the third season of ABC's "Cougar Town," which does not yet have a place on the network's schedule. Its executive producer, Bill Lawrence, tweeted Friday night: "Hoping CT's premiere date will be announced Tuesday. Fingers crossed…"
Gay, lesbian, bisexual and transgender advocates objected to "Work It" even before it aired, taking out an ad in Variety that said it would hurt transgender people.
ABC entertainment president Paul Lee was one of the show's few defenders. He said at the Television Critics Association winter press tour this week that he "didn't get," the objections to the show, comparing it to "Tootsie."
"I thought there was room personally for a very, very, very, very silly show," he said.
It was unclear whether the network will air the remaining episodes of "Work It," perhaps by burning them off in the summer. It scored a 2.0 rating in the 18-to-49 demographic in its debut last week, and slipped 20 percent in its second airing.
LOS ANGELES (Reuters) – By Tim Molloy