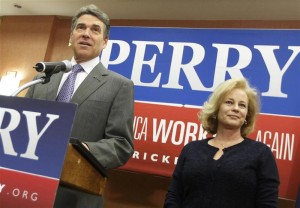 Texas Governor
Rick Perry
dropped out of the race for the 2012 Republican presidential nomination on Thursday after a series of gaffes and controversies undercut the campaign of the one-time frontrunner. He endorsed former rival
Newt Gingrich
."I've always believed the mission is greater than the man. As I have contemplated the future of this campaign, I have come to the conclusion that there is no viable path forward for me in this 2012 campaign," Perry, 61, told supporters in
South Carolina
, the conservative southern state where he had hoped to revive his campaign in Saturday's Republican presidential primary.
"Therefore today I am suspending my campaign and endorsing Newt Gingrich for president of the United States," Perry added. "I believe Newt is a conservative visionary who can transform our country."
Perry entered the race in August cheered by conservative activists and evangelical Christians dissatisfied with former Massachusetts Governor Romney, a more moderate politician who touted his business background.
The Texas governor briefly was at the front of the pack of Republican candidates seeking the party's nomination to face Democratic President Barack Obama on November 6. But a series of gaffes, poor debate performances and controversial statements during the campaign undermined his standing in polls.
Speaking of Gingrich, the former speaker of the U.S. House of Representatives, Perry said: "We've had our differences, which campaigns will inevitably have. And Newt is not perfect. But who among us is?"
"The fact is there is forgiveness for those who seek God. And I believe in the power of redemption, for it is a central tenet of my Christian faith," Perry added.
Perry's poll numbers remained low in South Carolina, with little prospect for improving there or in other state contests ahead. Perry and Gingrich in recent days had both been criticizing frontrunner Romney over his conduct as head of private equity firm Bain Capital and had called for him to release his federal income tax returns.
Speaking to reporters in Beaufort, South Carolina, Gingrich said he had spoken with Perry earlier in the day and called the Texas governor "a great patriot." Gingrich also said Perry had agreed to work with other state governors and legislators to develop a detailed conservative agenda for the future.
'A STRATEGIC RETREAT'
Perry contemplated getting out of the race after a fifth place showing in the January 3 Iowa caucuses – the first contest in the state-by-state battle for the Republican nomination – but then decided to stay in. His campaign, however, never got more traction.
He announced his candidacy in the coastal South Carolina city of Charleston last year and ended it there on Thursday.
"I know when it's time to make a strategic retreat," Perry said with his wife joining him.
Perry had roared past Romney and other rivals in August to take the lead in polls after entering the race. His conservative views and support from the grassroots Tea Party movement had positioned him as a top contender in the Republican race.
But Perry foundered after several poor debate performances in which he was hammered by his rivals over his immigration policies and for ordering that young girls in Texas be vaccinated for a sexually transmitted virus.
He was ridiculed after a major debate stumble in November when he could not remember one of the three government agencies that he had repeatedly said he would eliminate if elected president. He also alienated some conservative voters with his stance on immigration.
On Sunday, Perry accused the Obama administration of overreacting to a videotape that shows four U.S. Marines appearing to urinate on dead Taliban fighters in Afghanistan.
The next day, the Texas governor said that U.S. ally Turkey is ruled by Islamic terrorists and questioned whether it should remain in NATO, prompting the Turkish government to condemn his comments as "unfounded and inappropriate."
Perry had been known for controversial remarks even before running for president. In 2009, he pondered his state's secession from the United States. At a Tea Party event in Austin, supporters shouted "secede," and Perry said Texas might want to "if Washington continues to thumb their nose at the American people."
Perry becomes the latest casualty in the presidential campaign. Last August, former Minnesota Governor Tim Pawlenty withdrew after failing to make headway in the race.
Former pizza executive Herman Cain dropped out in December amid allegations of sexual harassment and infidelity. And U.S. congresswoman Michele Bachmann dropped out earlier this month after a weak showing in Iowa.
By Will Dunham
WASHINGTON (Reuters) -(Additional reporting by Steve Holland, Karen Brooks and Patricia Zengerle, Editing by Vicki Allen and Doina Chiacu)