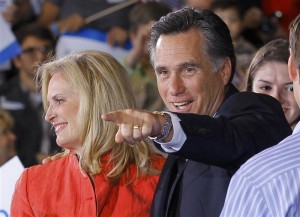 Mitt Romney's victory in
Florida
's Republican presidential primary has made him the man to beat in the race for the party's nomination to challenge President
Barack Obama
, and February may prove fruitful for him as the race shifts on Wednesday to
Nevada
.After pounding his nearest rival
Newt Gingrich
with negative advertisements, Romney rolled to an impressive triumph on Tuesday night in
Florida
, winning 46 percent of the vote to Gingrich's 32 percent in a key battleground state.
The next contest in the state-by-state battle for the Republican nomination to face Obama, a Democrat, in the November 6 U.S. election is in Nevada, which holds caucuses on Saturday. That is followed next Tuesday by caucuses in Colorado and Minnesota and a primary in Missouri.
Gingrich and Romney will be in Nevada on Wednesday.
The well-organized and well-financed Romney has now won two of the first four contests, also capturing New Hampshire while coming in second in Iowa and South Carolina.
Romney's win in Florida got his campaign back on track after the staggering loss to Gingrich in South Carolina 10 days earlier. But with Gingrich vowing to fight on for months, the race remains far from over.
This means there is the potential for a lengthy, divisive battle that could damage the party's chances of denying Obama re-election in November.
Romney may face questions about the negative tactics he has used to dispatch Gingrich. Florida media were awash with millions of dollars in ads that focused on Gingrich's ethical troubles while speaker of the U.S. House of Representatives in the 1990s and questioning his conservative bonafides.
Gingrich's ads were equally negative against Romney. He just got outspent.
Romney hopes the seven state contests in February will cement his status as the runaway front-runner and make Gingrich a non-factor.
In his victory speech in Tampa on Tuesday, Romney held his fire against his Republican rivals. Instead, he took aim at Obama. Romney stressed his belief that he can turn around the U.S. economy based on his experience as a private equity executive and former governor of Massachusetts.
"President Obama wants to grow government and continue to amass trillion dollar deficits. I will not just slow the growth of government, I will cut it. I will not just freeze government's share of the total economy, I will reduce it. And without raising taxes, I will finally balance the budget," he said.
A bruised and battered Gingrich aims to ride out February and hang on until March when the Southern states he wants to win come into play. He needs to raise money and build a better organization. If the Florida outcome is any indication, he faces a hard fight ahead.
"It is now clear that this will be a two-person race between the conservative leader, Newt Gingrich, and the Massachusetts moderate," Gingrich said on Tuesday night.
Former U.S. senator Rick Santorum, who won in Iowa, came in third in Florida, followed by U.S. congressman Ron Paul.
By Steve Holland