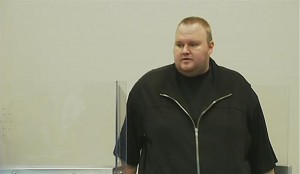 A New Zealand court refused an appeal by the founder of online file-sharing site Megaupload.com to be freed on bail, Friday, agreeing with prosecutors there was a risk he would attempt to flee before an extradition hearing.
Kim Dotcom, a German national also known as Kim Schmitz and Kim Tim Jim Vestor, was returned to custody until February 22 ahead of a hearing on an extradition application by the United States.
The High Court in Auckland said the lower court judge was right to rule there was a significant risk Dotcom, who had passports and bank accounts in three names, might try to flee the country.
There was nothing to tie Dotcom to New Zealand except his motivation to fight the charges and get his funds, Justice Raynor Asher said.
"The judge correctly concluded that the risk of flight cannot be mitigated by the imposition of conditions, including electronic monitoring," said prosecutor Anne Toohey.
STRENUOUSLY DENIES CHARGES
Prosecutors say Dotcom was the ringleader of a group that netted $175 million since 2005 by copying and distributing music, movies and other copyrighted content without authorization.
Dotcom's lawyers say the company simply offered online storage and that he strenuously denies the charges and will fight extradition.
Dotcom, 38, and three others, were arrested on January 20 after armed New Zealand police raided his country estate at the request of the U.S. Federal Bureau of Investigation.
He told the court that with his assets frozen and business shut down he had no intention of trying to flee to his native Germany, where he would be safe from extradition.
"I will not run away. I want to fight these allegations on a level playing field. I have three little children. My wife is pregnant with twins. I just want to be with them," he said in court.
EXTREME FLIGHT RISK, FUNNY VISITS
The prosecution again painted Dotcom as an extreme flight risk because of he had multiple passports, sources of funds, access to various means of travel, and previous history of fleeing to avoid criminal charges.
Officers cut Dotcom out of a safe room he had barricaded himself in within the sprawling mansion, reputedly New Zealand's most expensive home.
Dotcom said he said he had received "funny visits" and contacts while in jail, including one from a man claiming to be a prosecutor asking for money in return for a favorable bail hearing. He denied knowing anyone with a background in providing forged documents, whom the prosecution said had tried to visit him.
He said police had been unnecessarily aggressive when they raided his property.
"I was punched in the face, I was kicked down on the floor, one guy was standing on my hands … it was bleeding."
Legal experts have said extradition hearings are likely to be drawn out with appeals likely all the way to the country's highest court.
The lower court judge said the accused appeared to have "an arguable defense at least in respect of the breach of copyright charges."
WELLINGTON (Reuters) – (Writing by Gyles Beckford; Editing by Ed Lane)