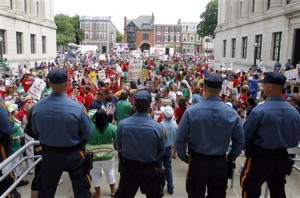 New Jersey's Democratic-controlled state
Senate
approved a same-sex marriage bill on Monday but
New Jersey
was unlikely to become the eighth state in the country to approve gay marriage as Republican Gov.
Chris Christie
has promised to veto it.The state Assembly was expected to approve the measure on Thursday and send it to Christie, one of the country's leading Republicans and a possible vice-presidential candidate.
The Senate vote of 24 to 16 came on the same day Washington state Gov. Christine Gregoire was scheduled to sign a bill making Washington the seventh state to legalize same-sex marriage.
New Jersey's Democratic leadership, which controls both houses of the legislature, has made gay marriage a top priority this session, saying the state's civil union law does not adequately protect same-sex couples.
Though the bill had majority support in the legislature, it was unlikely to have the two-thirds majority needed to override Christie's promised veto.
"The word marriage is society's universal civil and legal acknowledgment of a loving relationship," Sen. Loretta Weinberg, the bill's sponsor, said during the debate. "It's time for New Jersey to get on the right side of history and enact true marriage equality for every one of our residents."
In a tacit acknowledgment of how long the fight might continue, she added, "With enough votes, in the future, we can override the governor's veto."
Passing the measure would put increased political scrutiny on Christie, a supporter of Republican presidential candidate Mitt Romney. Christie's fortunes within the party have risen since he captured the Democratic-leaning state by unseating former Governor Jon Corzine in 2009.
Gay marriage is already allowed in New York, Connecticut, Iowa, Massachusetts, New Hampshire and Vermont plus the District of Columbia.
A Gallup poll last year found for the first time a majority of Americans believe gay marriage should be legalized, with 53 percent in favor.
Opposition to same-sex marriage remains a staple of the more conservative wing of the Republican Party. In moderate New Jersey, one senator spoke out against the bill during the debate, Sen. Gerald Cardinale.
"This bill seeks to change thousands of years of human history by redefining, reordering our thinking," Cardinale said.
The bill would "create discrimination against many other co-habiting couples," such as siblings who have decided to live as a household, he said.
"If we open marriage to some same-sex couples, in the name of anti-discrimination, why not to all couples?" Cardinale said.
New Jersey's high court ruled in 2006 same-sex couples must be guaranteed the same rights as heterosexual married couples but left it up to the legislature to write the law. The legislature approved a civil unions law for same-sex couples later that year.
Gay couples argued the state had created a two-tier system that was inherently unequal.
"Civil unions are a failed experiment. They don't promote equality. They only prolong stigma," said Senate President Stephen Sweeney, a supporter who abstained from voting on the measure two years ago.
A new lawsuit, which challenges New Jersey's civil union law, is pending.
By Edith Honan
TRENTON, New Jersey (Reuters) – (Editing by Daniel Trotta and Greg McCune)