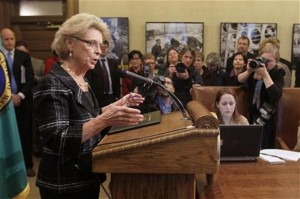 Washington state Governor Christine Gregoire signed legislation on Monday to legalize gay marriage, putting the state on track to become the seventh in the nation to recognize same-sex matrimony.
But the measure, which won final approval from state lawmakers last Wednesday, cannot take effect before early June, following a standard enactment period that runs until 90 days after the end of Washington's legislative session.
Opponents of the Washington measure have vowed to seek its repeal at the polls in November.
OLYMPIA, Wash (Reuters) – (Reporting by Nicole Neroulias; Writing by Steve Gorman; Editing by Cynthia Johnston)