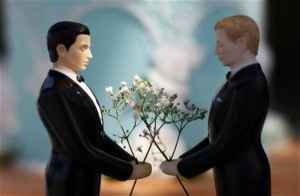 The
Maryland Senate
is expected to vote on Thursday on a bill that could make the state the eighth in the nation to legalize same-sex marriage, after opponents failed to derail the measure with a series of proposed amendments.Several senators, including
Senate
President
Thomas Mike Miller Jr.
, said it now appeared likely that the bill would come up for a vote on Thursday, sooner than many had expected. A vote could take place shortly after debate resumes at 4 p.m. local time.
The bill has been approved by the state's lower House of Delegates, and Gov. Martin O'Malley, a Democrat, has promised to sign the legislation if passed by the Senate. His office could not predict when a signing ceremony might take place.
Maryland's state Senate voted in favor of a similar bill last year but the measure died in the lower house.
While still controversial, same-sex marriage has been gaining acceptance nationally in recent weeks. Washington state signed it into law and the New Jersey legislature passed it through both houses, although it was vetoed by Gov. Chris Christie.
Also, an appeals court has overturned California's ban on gay marriage, enacted through a 2008 ballot initiative.
Same-sex couples can marry in the District of Columbia and in six states — Massachusetts, Iowa, Vermont, New Hampshire, Connecticut and New York. Washington state will join the list in June unless opponents stop it ahead of a possible ballot initiative.
Lawmakers failed in attempts to introduce about a half-dozen various amendments to the bill on Thursday, including a change that would have prohibited minors from same-sex nuptials and another that would have broadened the bill's religious liberty protections.
Under the current bill, a religious group or a nonprofit organization sponsored by a religious group is not required to provide services linked to gay marriage that violate its religious beliefs unless it receives federal funding.
For example, the protections would allow the Knights of Columbus, a Catholic group, to refuse to rent a meeting hall for a same-sex wedding and not require a church counseling service to counsel same-sex couples, supporters say.
Democratic state Senator Jamie Raskin, a supporter of the bill, said: "Any effort to amend the bill at this point is an effort to kill the bill."
Should the measure pass and become law, opponents say they will push for a voter referendum to repeal it.
They would need nearly 56,000 signatures to get the measure on the ballot, according to the Maryland State Board of Elections. They would need to submit one-third of those signatures by May 31 and the remainder by June 30 to get the measure on the November ballot.
By Alice Popovici
ANNAPOLIS, Maryland (Reuters) – (Editing By Ellen Wulfhorst and Paul Thomasch)