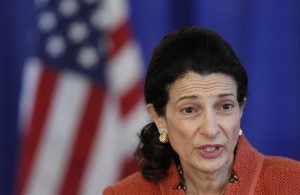 The two major U.S. political parties have a responsibility to end the "dysfunction and political paralysis" gripping
Washington
, Senator
Olympia Snowe
said on Friday as she returned to her home state of
Maine
after saying she would not seek a fourth term."The two-party system is what's been fundamental. And I think they have the responsibility ultimately because they control the governing institutions," the 65-year-old moderate Republican told a crowd of about 100 supporters and journalists.
"That means they have to come to grips with their obligation to make the system work and what we've been witnessing is dysfunction and political paralysis in Washington."
A centrist reflecting her New England state, Snowe has often broken with her party during her 17 years in the Senate, most recently on Thursday when she helped block an effort to revise Democratic President Barack Obama's healthcare law to let employers opt out of covering the cost of birth control if they had moral objections.
Her decision to step down at the end of her term in January 2013 shocked both Maine voters and the national Republican leadership, which was counting on her seat to help its effort to take control of the Senate, where Democrats currently have a narrow 53-47 seat majority.
Unlike some other moderates who have decided not to seek re-election this year – including Democrats Jim Webb of Virginia and Ben Nelson of Nebraska, as well as Joe Lieberman of Connecticut, an Independent – Snowe was viewed as very likely to have won.
Snowe's decision to step down to highlight the dysfunction and encourage compromise is not without risk.
"It could go either way," said Mark Brewer, an associate professor of political science at the University of Maine.
"If Olympia and others like her decide to throw up their hands in frustration and walk away, this could be an indication that things are broken and we have to fix them. Or it could go the other way and it could be viewed as turning the asylum over to the lunatics, if someone takes her place who is completely unwilling to compromise," Brewer said.
Snowe, who spent 16 years in the House of Representatives before being elected to the Senate in 1994, said she hoped to have an influence on governing after she leaves office, but offered no specific plans. She said she had no plans to seek other elected offices.
SUCCESSION SCRAMBLE
The news that Snowe was stepping down set off a scramble among candidates to succeed her. Republicans and Democrats have a little under two weeks to meet the March 15 deadline to gather and submit 2,000 signatures to put their names on the ballot for the November 6 election.
Among Democrats, Representative Chellie Pingree and former Governor John Baldacci began the process of seeking signatures. Republican Scott D'Amboise, a businessman, had already launched a challenge to Snowe and remains in the race.
Two candidates who had been named as possible successors have indicated they will not run. Democratic Representative Michael Michaud said he would seek re-election to his current post rather than run for Senate, and state Senate President Kevin Raye, a Republican, said he would keep his focus on unseating Michaud.
Snowe said she was confident that more Republicans would enter the race, but made no endorsements.
PORTLAND, Maine (Reuters) -(Reporting By Scott Malone; Editing by Vicki Allen)