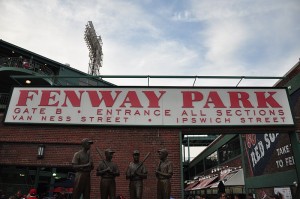 Nine more men have come forward to accuse a deceased Red Sox staffer of sexually abusing them decades ago as teenagers, including some who were working for the major league team, an attorney representing them said on Monday.The alleged victims say former Red Sox clubhouse manager
Donald Fitzpatrick
, who died in 2005, sexually molested them at
Boston
's
Fenway Park
, in his home and at other stadiums around the country.
The nine who came forward bring the total to 11 people represented by Boston attorney Mitchell Garabedian include two men who served as batboys for the Baltimore Orioles and others who worked for the Red Sox.
Ronald Shelton, who was 17 and working as a batboy and clubhouse attendant for visiting teams at Memorial Stadium in Baltimore, said he dreaded the Red Sox coming back to town during the 1990 season.
"He appeared to be nice, but he made me feel uncomfortable after he began to touch my private parts," said Shelton, 38, describing one of two incidents in which he said Fitzpatrick molested him.
He was afraid to speak up, he said, for fear of losing his dream job readying equipment for professional ball players.
Shelton said there were no problems when other major league teams were in town.
The victims are each seeking $5 million in compensation from the Red Sox and from the Orioles in certain cases, which Garabedian says happened from about 1967 until 1991.
"This is just the tip of the sexual abuse iceberg," Garabedian told reporters at a news conference, adding that he would not be surprised to find hundreds of victims of Fitzpatrick.
The widening net of men to accuse Fitzpatrick comes in the wake of the sex abuse scandal at Penn State, where a former assistant football coach has been accused of sexually abusing young boys, and allegations of sexual abuse that surfaced at Syracuse University's basketball program.
There also have been sex abuse allegations in recent months against a former basketball coach at Syracuse University and the former president of the Amateur Athletic Union (AAU).
Garabedian said he is investigating two more cases he may represent and is considering lawsuits for two victims for whom the statute of limitations on the incidents may not have passed.
Garabedian, who has also represented people accusing Catholic priests of sexually abusing them, said he will be asking the Red Sox for an apology and is considering asking local authorities to conduct an investigation.
The Red Sox reiterated a statement issued by their attorney Daniel Goldberg when two men came forward in December.
"The Red Sox have always viewed the actions of Mr. Fitzpatrick to be abhorrent. When the team, then under a previous ownership group, became aware of the allegations against Mr. Fitzpatrick in 1991, he was promptly relieved of his duties," it said.
"The Club is unaware of any specifics regarding the matters brought forward recently by these individuals but, given the sensitive nature of the matter, will not have further comment," it said.
The Red Sox fired Fitzpatrick in 1991 after another victim held up a sign at a televised ballgame played in California accusing him of abuse.
The team in 2003 paid a $3.15 million legal settlement to seven Florida men who alleged Fitzpatrick abused them during the team's spring training sessions in the 1970s. Fitzpatrick pleaded guilty to charges in connection with that case in 2002.
BOSTON (Reuters) -(Reporting By Lauren Keiper; Editing by Greg McCune)