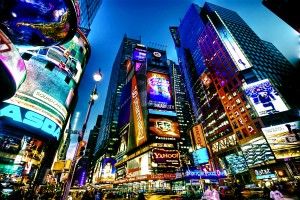 The
OUT NYC hotel
boasts two hot tubs, a secret garden, its own nightclub and the title of Manhattan's first boutique hotel built specifically to cater to millions of gay tourists to
New York
.The hotel, not far from
Times Square
and Broadway theaters, also hopes to cater to the friends and families of its gay clientele. And so, turning an old concept on its head, the owners of the hotel like to describe it as "straight-friendly."
"This project has been in the planning for five years, and after 18 months of construction, we are proud to announce the opening of the city's, and maybe even the world's, first gay focused, straight-friendly, urban resort," said co-owner Ian Reisner.
Designed by architect Paul Dominguez, The OUT NYC opened for business earlier this month with a 5,000-foot (1524-meter) wellness center, three separate courtyards, including one dubbed the great lawn, a sunbathing deck, a gym and a restaurant due to open later this spring.
It also features a nightclub called XL and multi-use spaces for conferences, events and weddings.
The inspiration for the hotel came long before New York's same-sex marriage law came into effect in July 2011 and was built specifically with the gay travel market in mind.
New York is one of the biggest destinations in the world for gay, lesbian, transgender and bisexual tourists, according to the city's tourism organization, NYC & Company.
Bjorn Hanson, the divisional dean of the Preston Robert Tisch Center for Hospitality, Tourism, and Sports Management at New York University, said New York hotel operators would be watching the fortunes of The OUT NYC with interest.
"There are hotels that have been developed specifically marketing to LGBT travelers, but exclusive hotels that really make it their identity are very rare. There are many hotel developers, owners and operators interested in seeing the market response to this hotel," Hanson said.
What distinguishes The OUT NYC is its Hell's Kitchen location on 42nd Street — an area west of Times Square which was gentrified largely by the city's gay population in the 1980s and 199Os.
"We have more gay bars here now than we actually have in Chelsea, which was the mainstay of the gay community," said Reisner, referring to another area of the city.
"Of the 50 million tourists that came to New York City last year, it's estimated that 8 million were LGBT travelers. With 105 rooms, we don't expect to house many people, but we expect The OUT NYC will become the epicenter of gay life for LGBT New Yorkers.
"With New York's recent legislation, we look forward not only to hosting countless gay couples, but marrying them as well," Reisner said.
The OUT NYC has 97 standard rooms starting at $200 per night, and offers eight budget stay shares, or luxury hostel accommodations, for $99 per person.
Tom Whalen and Russell Kemp, who won a same-sex marriage TV contest, were married last week at the hotel's XL nightclub by "Happily Divorced" actress Fran Drescher.
She is also an activist for marriage equality and is a recently ordained minister for the Universal Life Church and officiated at a ceremony for the owners of the nightclub.
By Jill Jacobs
NEW YORK (Reuters) – (Editing by Jill Serjeant and Patricia Reaney)