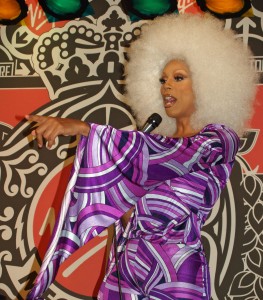 Over four seasons, "RuPaul's Drag Race" has blossomed into a worldwide, cultural phenomenon that's made superstars of its former drag competitors.  International appearances, national glossy magazine photo shoots, stints on the runways of New York Fashion Week and buzzed about music releases are just a few of the accomplishments of former "dragtestants."  One thing is for certain, fans can't get enough of these gals and Logo's responding to the demand with an all-new offering for the "RuPaul's Drag Race" franchise.  "All Stars: RuPaul's Drag Race" is set to serve up a new twist on the mega-hit "RuPaul's Drag Race" as it pits queens from previous seasons in a wig-to-wig drag battle royale.  "All Stars: RuPaul's Drag Race" has been greenlit for six, one-hour episodes and is slated to premiere this fall on Logo.
Also, for "All Stars: RuPaul's Drag Race," fans will take a part in casting the show.  While the top secret cast for "All Stars: RuPaul's Drag Race" won't be announced for a few months, fans will decide which of the former queens will earn one of the coveted spots on the show.  Starting today, fans can go to Facebook (https://www.facebook.com/AllStarsRuPaulsDragRace/app_177914495580579), review all 46 previous contestants and vote for their favorite.  The winning queen who'll join the "All Stars: RuPaul's Drag Race" cast will be announced on NewNowNext.com.
An excited RuPaul exclaimed, "'RuPaul's Drag Race' is a show that  not only champions talent and artistry, but it's also launched a new generation of entertainers that are working throughout America seven nights a week!  Drag has come out of the closet, and it's not going back!"
The fourth season of "RuPaul's Drag Race" is currently in full swing on Monday nights at 9:00 PM ET/PT on Logo.  RuPaul, the world's most famous drag queen, has pushed the boundaries of popular culture on an international level and continues to make history this season with "RuPaul's Drag Race," the first reality television show featuring drag queens.  Each week RuPaul decides who will "shante! stay!" or "sashay away" with a new batch of the nation's hottest, most glamorous drag queens.  In the end, only one contestant will have what it takes to win the coveted title of "America's Next Drag Superstar," and a prize package that includes a headlining spot on Logo's Drag Race Tour, featuring ABSOLUT® Vodka, cocktails perfected, a one-of-a-kind trip courtesy of AlandChuck.travel, a lifetime supply of NYX Cosmetics and a cash prize of $100,000.
"All Stars: RuPaul's Drag Race" is produced by World of Wonder Productions with Fenton Bailey, Randy Barbato, Tom Campbell, RuPaul Charles and Chris McKim serving as Executive Producers.  Brent Zacky and Pamela Post are Executive Producers for Logo.
For more information on "RuPaul's Drag Race" and to view the current episode and sneak preview clips of upcoming episodes, go to LogoTV.com.  For up-to-date "RuPaul's Drag Race" news and exclusives, join the "All Stars: RuPaul's Drag Race" Facebook page or follow the series on Twitter at @RuPaulsDragRace and #DragRaceAllStars.
NEW YORK, March 12, 2012 /PRNewswire/