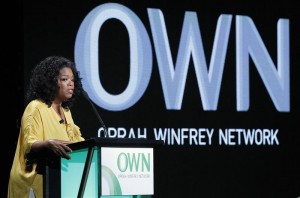 Oprah Winfrey's Network, OWN, the iconic talk show host's 15-month old cable network, has laid off 30 staffers after persistently poor ratings.A talk show hosted by comedienne
Rosie O'Donnell
, for example, was canceled after five months.
The cable network, owned jointly by Winfrey and Discovery Communications, has had a hard time finding an audience for most of its programming after being launched on January 2, 2011.
Discovery, which announced the layoffs in a regulatory filing, said it provided $312 million to start and operate the OWN, an amount that exceeded its $189 million commitment to the joint venture. Some of those funds were borrowed by the venture, the company also said.
"Early results of OWN's operations have been below its initial business plan," Discovery added.
"The economics of a start-up cable network just don't work with the cost structure that was in place," Winfrey said in a statement. "As CEO, I have a responsibility to chart the course for long-term success for the network."
The staffers that were laid off are located in New York and Los Angeles, where the company has its production offices.

(Reuters) – (Reporting By Ronald Grover; Editing by Bernard Orr and Steve Orlofsky)