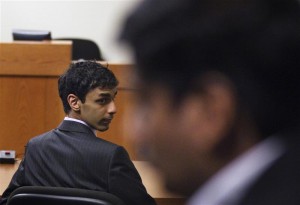 Dharun Ravi, convicted of hate crimes for using a webcam to spy on his Rutgers University roommate's gay encounter, apologized publicly for the first time to the young man's family, saying "I didn't hate Tyler."
After being offered a plea deal with no jail time, Ravi, 20, took a gamble by going to trial in a case that put a national spotlight on gay bullying and teen suicide. The roommate, Tyler Clementi, killed himself three days after learning his sexual tryst was seen by webcam.
Ravi's conviction last week on all 15 counts, including bias intimidation, means he faces 10 years in prison at his May 21 sentencing.
"I'm never going to regret not taking the plea," Ravi told the Newark Star-Ledger in an interview published on Thursday.
"If I took the plea, I would have had to testify that I did what I did to intimidate Tyler and that would be a lie. I won't ever get up there and tell the world I hated Tyler because he was gay, or tell the world I was trying to hurt or intimidate him because it's not true," he said.
Ravi said he used a camera mounted on his computer in their freshman dorm room to see Clementi and an older man, identified only as M.B., kissing only because he was worried by the man's scruffy appearance.
"If it was a girl who came to the room and she looked as strange as M.B., I would have done the same thing," Ravi told the Star-Ledger.
Three days after the webcam incident, Clementi, 18, jumped off the George Washington Bridge on September 22, 2010.
For the first time, Ravi, who was not charged in Clementi's death, publicly apologized to the Clementi family.
"I'm very sorry about Tyler," Ravi told the Star-Ledger. "I want the Clementis to know I had no problem with their son. I didn't hate Tyler and I know he was okay with me."
NEW YORK (Reuters) – (Reporting By Barbara Goldberg; Editing by Paul Thomasch)