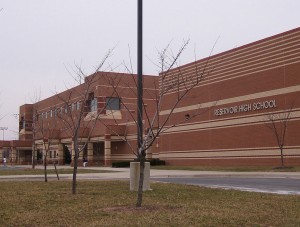 A Northern California high school drug counselor has been jailed on charges of molesting one student and secretly videotaping sex acts in his office between various other students, a prosecutor said on Thursday.
Gilbert Olivares, 34, pleaded not guilty on Wednesday to 19 felony counts of sex crimes in Monterey County Superior Court, according to his attorney Andrew Liu. The next court proceeding in the case was set for April 3.
The investigation of Olivares began after the drug and alcohol abuse counselor was accused of grabbing the buttocks of a 14-year-old boy on two occasions, and sending sexually explicit messages to him and another minor male victim.
Deputy District Attorney Rolando Mazariegos said police searching Olivares' cell phone and his residence in Salinas found 13 videos of students, aged 14 to 18, having sex in his office during school hours.
According to investigators, Mazariegos said, "You can see on almost all the videos rigging the telephone camera toward a certain corner of the room, then leaving."
Asked if any of the students depicted in the videos could be targets of prosecution for statutory rape, Mazariegos said, "I view this as a crime against children, as them being basically betrayed. He was using these kids to exploit them sexually."
He declined to say how investigators believe Olivares induced the students to engage in sexual activity.
Police also found hundreds of images of child pornography and are still examining three computers found at Olivares' home, officials said.
In all, felony counts against Olivares include charges of lewd acts upon a child, exhibition of harmful material to a child, contact with a minor for a sexual offense, and use of a minor for an obscene act. Eleven of the counts relate to the allegations of videotaping.
Mazariegos said on Thursday that he expects at least one additional charge to be filed against Olivares as a result of a continuing investigation.
Mazariegos said Olivares was a drug resource specialist who had an office at Salinas High School but was paid through a Salinas treatment center, Sunrise House. A representative of Sunrise House was not immediately available for comment.
Olivares had worked at the school for at least three years, according to Salinas police Sergeant Christopher Lane. Bail was set at $1 million, but not because Olivares was considered a flight risk, according to Lane.
"He was so well liked in the community that there is a real possibility he would attempt to dissuade witnesses," Lane said.
If convicted on all counts, officials said Olivares could serve 15 years in prison and be forced to register as a sex offender for the rest of his lifetime.
By Emmett Berg
SAN FRANCISCO (Reuters) – (Editing by Steve Gorman and Tim Gaynor)