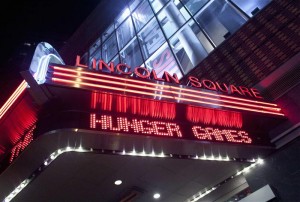 The highly anticipated drama "The Hunger Games" opened with a staggering $155 million in estimated U.S. and Canadian weekend ticket sales, beating Hollywood's loftiest expectations and ranking as the third-highest domestic opening in history.
The debut for the film, which tells the story of an oppressive society's teen death match, ranked behind only last summer's "Harry Potter" finale and 2008 Batman movie "The Dark Knight," distributor Lions Gate Entertainment said on Sunday.
The performance topped industry forecasts for an opening of about $125 million from Friday through Sunday.
"Hunger Games" set records for highest opening of a film that was not a sequel and biggest debut outside of the summer blockbuster season, Lions Gate said.
The movie took in an average of $37,467 at 4,137 locations.
"Hunger Games" is a post-apocalyptic drama based on the first of three best-selling young adult novels by Suzanne Collins. Jennifer Lawrence plays Katniss Everdeen, a teen girl who fights in a televised battle-to-the-death ordered by her society's rulers. Everdeen becomes a beacon of hope for freedom against the totalitarian government.
LOS ANGELES (Reuters) – (Reporting By Lisa Richwine; Editing by Bill Trott)