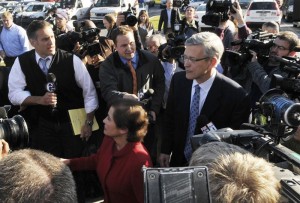 State prosecutors listed a number of instances on Friday in which they said two former Penn State University officials lied to a grand jury about their involvement in the Jerry Sandusky sex abuse scandal.
Former Athletic Director Tim Curley and now-retired financial officer Gary Schultz pleaded not guilty in January to charges of perjury and failing to report abuse allegations against Sandusky to police.
Former Penn State defensive football coordinator Sandusky, who has maintained his innocence and is under house arrest, was arrested in November and has been charged with 52 counts of molesting 10 boys over a period of 15 years. His trial is due to begin in June.
The explosive scandal focused national attention on child sex abuse and led to the firing of Penn State's legendary head coach Joe Paterno and university President Graham Spanier. Paterno died in January.
In response to a petition by Curley and Schultz to have the charges against them dropped, the Pennsylvania Attorney General's Office provided a list of 15 times in which they said Curley lied to the grand jury, and 18 for Schultz.
For example, prosecutors said that when an attorney asked if then-graduate assistant Mike McQueary "did not specifically tell you there was anal intercourse occurring between Jerry Sandusky and this child," Curley lied when he responded with, "Absolutely not, that he did not tell me that."
When Schultz was asked if McQueary had related what he saw when Sandusky and a boy were allegedly showering together on campus, the former head of campus security responded: "No. My recollection was McQueary and Joe (Paterno) both only described what was observed in a very general way. There was no details."
Prosecutors also wrote that they believe the former Penn State employees were trying to "take advantage" of Paterno's death from lung cancer.
Curley and Schultz argued in their February motions to dismiss the perjury charges, saying Paterno was not available to support McQueary's testimony during their criminal trial and there was no one else to back up his claim.
"McQueary's testimony was corroborated by that of his father, John McQueary … (who) testified that he met with Defendant Schultz some time after the incident described by his son," wrote Bruce Beemer, the attorney general's chief of staff.
"At that meeting, Schultz's words and behavior indicated that he understood that Michael … had witnessed sexual contact between Sandusky and the boy. Because Schultz would have learned of such from Michael McQueary, the testimony of Michael McQueary is corroborated," Beemer said.
The attorneys for Curley and Schultz, Caroline Roberto and Tom Farrell, had little to say in response to the prosecution's rebuttal.
"We have received the prosecution's filings and look forward to reviewing their responses," they said in a joint statement.
By Mark Shade
HARRISBURG, Penn. (Reuters) – (Editing By Cynthia Johnston)