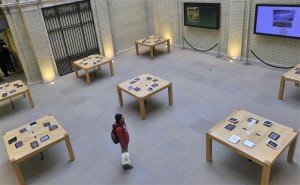 Britain's advertising regulator is deciding whether to launch an inquiry into Apple Inc's marketing of its latest iPad following what some customers said were misleading claims about access to 4G, which is not available in the country.
Fourth-generation or 4G technology enables users to access faster Internet broadband services.
"We have received 24 complaints about claims on Apple's website about 4G on the iPad. We are assessing whether there are grounds for investigation," a spokesman for the Advertising Standards Authority said on Saturday.
The company could not be reached for comment.
Apple has come up against a similar problem in Australia, whose consumer watchdog took legal action last month to ensure the company makes consumers aware that its latest version of the hand-held computer cannot connect to 4G in Australia, prompting Apple to offer refunds to all affected buyers in the country.
LONDON (Reuters) – (Reporting by Olesya Dmitracova; Editing by John Stonestreet)