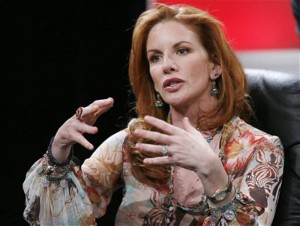 Rock week got Sherri Shepherd bounced from the ballroom on Tuesday after her tango to "Come On Feel the Noize" failed to impress judges and fans of "Dancing With the Stars" enough to keep her feet on the floor.
An emotional Shepherd, co-host of talk show "The View," had tears streaming down her face after she became the third star eliminated from season 14 of the hit television competition.
"Thank you for letting me live a dream that I've always had," said Shepherd, 44, who was paired with professional dancer Valentin Chmerkovskiy.
Between sobs, she also exhorted fans to face their fears, telling them "run towards it, because it's so amazing on the other side."
The other bottom finisher this week was Disney Channel star Roshon Fegan, who received high marks from the judges and said he had "no expectation" of facing elimination.
Early on Tom Bergeron promised the results would provide "the shock of the season," although Shepherd's score of 21 from the judges was the second-lowest this week.
Judge Len Goodman concurred with Bergeron, saying "All of us judges, we are in total shock" at the results. "The standard this season is so high, anyone can be in jeopardy, anyone can be safe," he said.
Gladys Knight, who placed last this week in the judges' scoring after her tango to Queen's "Bohemian Rhapsody," and musician Gavin DeGraw, who has languished in the bottom two every week so far, were both declared safe early on.
Melissa Gilbert, the 'Little House on the Prairie" star who was injured during Monday night's show and was briefly hospitalized after suffering a mild concussion, was the first dancer declared safe. She was expected to return next week.
The top score from the judges' ratings after Monday's show was earned by NFL wide receiver Donald Driver.
Nine stars remain in the competition. Viewer votes combined with judges' ratings decide which star is eliminated each week.
Musical highlights of the Tuesday's live elimination round included rock band Kiss performing "Lick it Up," and Gotan Project providing the music "Santa Maria" for an impassioned tango performance.
"Dancing With the Stars" annually is among the top-rated U.S. TV shows with a formula that pairs B-list celebrities, sports stars and singers with professional dancers performing sambas, waltzes and other dances across a ballroom floor.
NEW YORK (Reuters) – (Reporting by Chris Michaud; Editing by Bob Tourtellotte)