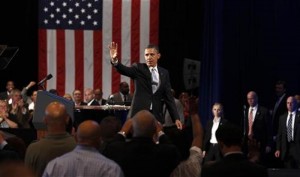 U.S. President Barack Obama's re-election campaign and Democratic groups affiliated with it raised more than $53 million in March, showing a jump in fundraising over the previous month as the general election gets under way.
More than 567,000 donors gave money to Obama's cause and 97 percent of the donations were $250 or less, the campaign said in a video released to supporters.
Fundraising by Obama groups has picked up gradually over the last three months. The campaign and its Democratic allies raised more than $45 million in February and a combined $29.1 million in January.
More than 190,000 people were first-time donors in March. The average donation clocked in at $50.78.
"This really is how this works: people building this organization five and 10 bucks at a time to take on Mitt Romney," Obama campaign manager Jim Messina said in the video.
Romney, the former governor of Massachusetts, is the likely Republican presidential nominee expected to challenge Obama in the November 6 election.
The fundraising totals include donations directly to the Obama campaign, the Democratic National Committee, and other joint fundraising committees.
While Romney was slogging through a competitive primary race against former Pennsylvania Senator Rick Santorum, Obama has spent his campaign time holding fundraisers at Democratic events in Washington and across the country.
Santorum dropped out of the race last week, clearing the way for Romney to take on the banner of likely nominee and giving Obama and his campaign a clear target to use in political attacks and fundraising appeals.
Obama's campaign raised roughly $750 million for his 2008 election effort, but it is concerned by the success of outside groups known as "Super PACs" that can bring in unlimited donations for political ads to tar the president.
Republican Super PACs have fared better in the fundraising battle than their Democratic counterparts.
Messina's fundraising update earlier this year acknowledged that concern openly, admonishing Obama donors not to wait to tap into their wallets.
His remarks in the video released on Monday had a similar message but were more upbeat.
"We're all going to have to dig even deeper, work even harder, move even faster. It's going to take all of us working together," he said. "If you've been waiting to get involved, this is the moment."
By Jeff Mason
WASHINGTON (Reuters) – (Editing by Eric Beech)