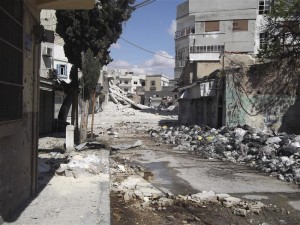 Syria and the United Nations signed an agreement on Thursday on terms for hundreds of observers to monitor a ceasefire, but diplomatic wrangling still lay ahead to persuade the West the mission would have the authority and power to ensure peace.
An advance party of half a dozen U.N. observers are already in Syria monitoring a week-old truce that has failed to stop bloodshed. The question of whether the mission can be expanded while violence continues is up in the air.
The 15-member U.N. Security Council – divided between Western countries that want to topple Syria's President Bashar al-Assad and Russia and China which support him – must agree the proposal to send a larger observer force.
In the first progress report since the council authorized the initial observers on Saturday, U.N. Secretary-General Ban Ki-moon said Syria had not fully withdrawn troops and heavy weapons from towns, failing to send a "clear signal" about its commitment to peace.
On Thursday, the council was briefed by mediator Kofi Annan's deputy, Jean-Marie Guehenno. According to council diplomats, Guehenno acknowledged risks of deploying unarmed observers while violence persists, but said their presence could help by changing the political dynamics on the ground.
Assad's opponents fear that a small observer mission with a weak mandate would act as little more than a figleaf, blocking more robust intervention to halt a 13-month crackdown on cities that have risen up against Assad.
U.S. and European diplomats on the council have suggested Syria's lack of full compliance with the ceasefire might make it hard for them to back an expanded mission. Russia and China will approve a mission only under a part of the U.N. charter that gives Assad's government a veto over the observers' mandate.
Discussion has focused on a force of at most a few hundred people, a tiny fraction of the size of peacekeeping forces normally deployed to war zones.
"This preliminary agreement … aims to facilitate the task of the observers within the framework of Syrian sovereignty," a statement from the Syrian Foreign Ministry said.
The small U.N. advance team on the ground in Syria has already had a taste of the unrest close up. On Wednesday, gunfire erupted close to the observers, who had been swarmed by anti-Assad protesters near Damascus.
On Thursday the team went to a rural area near the town of Deraa, where the uprising against Assad began 13 months ago. Amateur video footage posted on the Internet showed the team's head, Colonel Ahmed Himmiche, wearing a U.N.-style turquoise bullet-proof vest as he walks through a crowd of protesters.
A demonstrator wraps his arm around Himmiche and shouts: "The people want the execution of Bashar (al-Assad)," as Himmache, who must act as a neutral observer, looks ill at ease.
NO AIRCRAFT
The last mission by outside monitors to observe a peace plan in Syria, sent by the Arab League, collapsed in failure in January after just a month. That team said it could do little as long as its movements were controlled by Assad's forces.
Ban has asked for any new U.N. mission to have its own aircraft so it can travel independently, but Syria says it will provide transport. Edmond Mulet, deputy head of the U.N. Department of Peacekeeping Operations, told the Security Council U.N. air assets were not covered in the preliminary agreement, council envoys told Reuters on condition of anonymity.
The anti-Assad Syrian Observatory for Human Rights said Syrian forces were shooting in the town of Herak, in southern Syria, shortly after the U.N. team left the area on Thursday.
It added that six people had been killed around Syria on Thursday, including two during army shelling in Homs.
Ban has proposed an expanded mission of 300 personnel to monitor the shaky ceasefire. French Foreign Minister Alain Juppe said the mission would require between 300 and 400 people to oversee the country properly.
Syrian Foreign Minister Walid al-Moualem said 250 was a "reasonable number", adding they should be from countries such as China, Russia, Brazil, India and South Africa – all more sympathetic to Damascus than are the West or the Arab League.
Chinese Foreign Ministry spokesman Liu Weimin said Beijing was "seriously studying" participating.
RUSSIA SCOLDS "FRIENDS OF SYRIA"
U.S., Arab and European foreign ministers from an informal "Friends of Syria" group of states opposed to Assad were due to meet in Paris on Thursday evening. Russia said the self-appointed group had no authority to rule on Syria's implementation of the peace plan.
"When the so-called Syrian group of friends meet and somebody says 'Now we'll assess how Assad implements Kofi Annan's plan', it is a wrong attempt … We cannot privatize (the plan) and we will not let it happen," Foreign Minister Sergei Lavrov said at a NATO ministerial meeting in Brussels.
French President Nicolas Sarkozy said the solution for the crisis in Syria would be to set up a humanitarian corridor that would allow the opposition to Assad to survive.
Assad "wants to wipe Homs off the map just like (former Libyan leader Muammar) Gaddafi wanted to destroy Benghazi", Sarkozy said. "We called this meeting to gather all those who cannot stand that a dictator is killing his people."
"The solution is the establishment of humanitarian corridors so that an opposition can exist in Syria," Sarkozy told Europe 1 radio. France has proposed such steps before but has not spelled out how they could be carried out without a U.N. mandate beyond what Assad's veto-wielding allies would permit.
On Wednesday, 22 people were killed in Syria, including 13 civilians during shelling in Homs, said the British-based Syrian Observatory for Human Rights, which compiles information from anti-Assad activists. Syria's state news agency said 13 people were killed by "armed groups", including six law enforcement officials after a roadside bomb.
In Ban's report, the secretary-general expressed some hope that there may be a chance for progress on ending the conflict.
He said the advance team "enjoyed freedom of movement" in Deraa, but its initial request to visit Homs, a centre of the uprising against Assad, had been refused.
Activists posted footage on the internet of further shelling in Homs city on Thursday.
Two previous Friends of Syria meetings, in Tunisia and Turkey, produced more rhetoric than results, and it was not clear what Thursday's smaller gathering in France might deliver.
Washington and its Western allies have shown no desire to intervene militarily, as they did last year against Gaddafi in Libya, or push for the sort of robust peacekeeping force in Syria that might require 50,000 troops or more.
The Syria mission was negotiated by Annan, a former U.N. secretary-general now acting as an envoy of the United Nations and Arab League. Diplomats say Annan's main aim is to get a U.N. mission on the ground backed by Syria's supporters Russia and China, even if it is not big enough at first to do the job.
BEIRUT/UNITED NATIONS (Reuters) – (By Oliver Holmes and Louis Charbonneau; Additional reporting by Dominic Evans, John Irish and Daniel Flynn in Paris, Tom Miles in Geneva, Ben Blanchard in Beijing, Sebastian Moffet and Arshad Mohammed in Brussels; Writing by Oliver Holmes; Editing by Peter Graff)