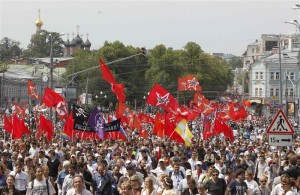 Thousands of Russians chanted "Russia will be free" in a march through Moscow on Tuesday to protest against President Vladimir Putin, shrugging off his tough new tactics intended to quash any challenge to his rule.
Protesters streamed down a leafy central boulevard in the first major rally since Putin was sworn in on May 7, saying they would not be deterred by police raids on opposition leaders' homes and a new law stiffening fines for public order offences.
"Those who fought are beyond being scared," said Valery Zagovny, a 50-year-old who served for the Soviet army in Afghanistan and was wearing the medals to prove it. "Let those behind the red-toothed walls of the Kremlin be scared."
Welcomed by a heavy downpour some joked had been orchestrated by the president himself, protesters waved flags and shouted "Russia without Putin" despite the absence of leaders who had been summoned to appear before investigators.
Leftist leader Sergei Udaltsov ignored his summons for questioning about violence at a rally on the eve of Putin's inauguration, and led a group of marchers carrying red flags and chanting "Putin to jail!" and "All power to the people!".
Helmeted riot police manned metal barriers along parts of the route, but the police presence was lighter compared with some earlier protests. Ilya Ponomaryov, an opposition lawmaker, said about 60,000 to 70,000 people had turned out, much higher than the police estimate of 18,000.
After tolerating the biggest protests of his 12-year rule while seeking election, Putin has signaled a harsher approach to dissent since the start of his new term as president.
In power since 2000, Putin easily won a six-year term on March 4 after four years serving as prime minister.
His mantra of ensuring stability finds deep support among the elderly and many outside the cities, as have his strong measures against the protesters, accused by some of his backers of being spoilt urbanites financed by foreign powers.
But opposition leaders say Putin's heavy-handed tactics show that the former KGB spy is deeply worried by the protests that have undermined his once iron-clad authority.
On Friday, he signed a law increasing fines, in some cases more than 100-fold, for violations of public order at demonstrations, despite warnings from his human rights council that it was an unconstitutional infringement on free assembly.
Police and investigators raided the apartments of Udaltsov, anti-corruption blogger Alexei Navalny and socialite Ksenia Sobchak on Monday, seizing computer drives and discs, photographs and other belongings as armed guards stood outside.
SOVIET-STYLE TACTICS
"The authorities are in a panic," Udaltsov told reporters.
"They are trying to conduct primitive, repressive actions, but I am sure they'll only achieve the opposite effect. These sorts of searches annoy and outrage people, and people in even greater numbers take to the streets."
Many protesters are middle-class city dwellers who have benefitted from the oil-fuelled boom Russia has experienced during Putin's years in power but want more of a say in politics and fear his prolonged rule will bring economic stagnation.
They have turned to an opposition which is still in its infancy, lacks a clear leader and looks unlikely to topple Putin, still Russia's most popular politician, any time soon.
Mikhail, 34, an athlete from Moscow, barely contained his anger while he watched the march.
"These people here are idiots. All those who think these protests can change something and bring something better than Putin to power are idiots," he said.
"I don't know of anyone more adequate and better equipped to rule our nation and take it out of the crisis if necessary."
Pro-Kremlin rallies were planned later on Tuesday, and Putin looked calm as he presided over an awards ceremony in an ornate Kremlin hall.
"SCARE TACTICS"
Police largely left big winter protests alone but began to crack down after Putin's election, beating protesters at the rally on May 6 and repeatedly dispersing groups trying to set up Occupy-style camps since then, briefly detaining hundreds.
They have detained 12 people over violence at that protest on charges punishable by more than a year in jail, and the latest summonses seemed to carry the implicit threat that opposition leaders could potentially face similar charges.
"I am not afraid I will be fined. I am not going to fight or scream, why would they fine me? And if they do, I won't pay, I'll go to jail and be considered a political prisoner," Nina Lobachyova, 73, a retired economist at the march.
But Daria, a 22-year-old student at the state nuclear corporation institute, said most of the people she knows who went to the first big protest, over alleged fraud in a December parliamentary vote won by Putin's party, were staying away.
"They are afraid of problems at work or of being detained and missing the exams we have scheduled tomorrow," said Daria, who held a sign urging Putin not to rule 12 more years, as he could if re-elected in 2018.
She would not give her last name for fear of problems at university.
Authorities gave permission to Tuesday's rally, but the law Putin signed on Friday says participants at public gatherings where order is deemed to have been violated with injury or damage to property can be fined as much as 300,000 roubles ($9,200), about 60 times more than the previous maximum.
Alexei Malyukov, a businessman, was attending a protest for the first time and brought his 14-year-old son. "We are against revolution, but we also want a change in power."
By Alissa de Carbonnel and Nastassia Astrasheuskaya
MOSCOW (Reuters) – (Additional reporting by Andrey Ostroukh and Lidia Kelly; Writing by Steve Gutterman; editing by Elizabeth Piper)