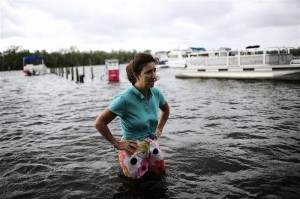 The remnants of Tropical Storm Debby moved out into the open Atlantic on Wednesday and rains finally eased over Florida but the state was struggling to clean up the soggy mess it left behind.
In Debby's wake were flooded homes and businesses, roads under water or cratered with sinkholes, and overflowing rivers that sent thousands fleeing for higher ground.
Emergency managers said it was too early to gauge the extent of the damage. About 11,000 customers were without electric power in 39 counties on Wednesday, down from 29,000 on Tuesday.
The storm deluged parts of central and northern Florida with more than 2 feet of rain as it hovered in the Gulf of Mexico and cut across the peninsula. It was downgraded to a tropical depression when its winds died down on Tuesday night.
By Wednesday it was a disorganized mass of thunderstorms out in the Atlantic, centered about 90 miles east of St. Augustine, Florida. There was a small chance it could regroup into a tropical storm on Sunday but it was expected to curve northeast over open waters far from land.
"Rainfall associated with Debby will continue to diminish across the Florida peninsula today," forecasters at the U.S. National Hurricane Center in Miami said. "Additional isolated rainfall amounts of up to 1 inch will be possible in some of the lingering rain bands, mainly over southern Florida."
At least two Florida deaths were blamed on the storm. A central Florida woman in Polk County was killed when her car hydro-planed on a flooded road and a woman in neighboring Highlands County was killed when a tornado wrecked her home, a spokeswoman for the Florida Division of Emergency Management said.
A man died after his canoe capsized on Lake Dorr in the Ocala National forest a few hours after Debby made landfall on Tuesday, and medical examiners were still investigating whether his death was storm-related.
TALLAHASSEE, Florida (Reuters) – (By Michael Peltier; Writing by Jane Sutton; Editing by Vicki Allen)