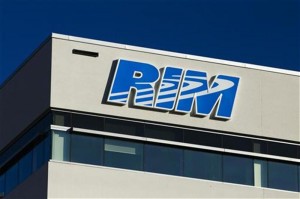 Research In Motion Ltd could run out of cash and ultimately fail, even with the launch of its now-delayed BlackBerry 10 device early next year, Wall Street analysts said.
At least 10 brokerages cut their price targets on the stock, some by as much as 50 percent, a day after the company reported worse-than expected quarterly results and said it would delay the launch of its next-generation device to early 2013 from late this year.
RIM shares were down 16 percent in pre-market trading on the Nasdaq.
"If RIM continues to be run as it is, we believe that the company will eventually fail," Nomura Equity Research said.
"We do not expect RIM to successfully drive a turnaround of its financials, even with the launch of BB10 next year," the brokerage said in a note to clients, adding that its model assumes that RIM disappears by 2020 in a gradual decline.
BlackBerry 10, considered to be RIM's make-or-break product, was originally slated to be launched in the first quarter and the delay has already contributed to a 40 percent drop in the company's stock price so far this year.
"Given RIM's cash burn, BB10 can't come soon enough," Barclays said in a note to clients.
Analysts at Citi Investment Research and Jefferies slashed their price targets on the stock to $5.00 for RIM's U.S.-listed shares, a fall of 45 percent from Thursday's close.
"We believe fundamentals continue to get worse and RIMM could run out of cash and need to raise capital within two years implying that as time rolls forward, if we are correct, the value of RIMM continues to go lower," the Citi analysts said.
"We expect more write-offs and impairments to RIMM assets and we question if RIMM's new BB10 products will even matter as it may be too little too late," the analysts said, adding that they expected the company's smartphone sales growth to be less than half of the industry average in 2012.
MARCHING OFF THE CLIFF
RIM said it would lay off 5,000 workers, about 30 percent of its workforce, as it tries to save cash, although some analysts noted that this would come at a short-term cost.
Citi said it believed the company should be hiring instead of firing to get its products out on time. "With the distraction of this large layoff, it will be difficult to retain and motivate employees to develop new products."
With a weak product portfolio and the BlackBerry 10 delay, RIM faces continued volume pressure as well declining average selling prices, said Credit Suisse, which cut its price target on the company's U.S.-listed shares to $7 from $11.
"While the stock remains cheap, only the potential for an outright sale of the company or a break-up keeps us at a "neutral" (rating)," the brokerage said.
RIM's board is under increasing pressure to consider unpalatable options such as selling its network business or forming an alliance with Microsoft Corp, three sources familiar with the situation said on Thursday.
Cannacord Genuity said it did not believe the launch of BlackBerry 10 would turn around RIM, which has come up short in competing with Apple Inc's iPhone and other devices using Google Inc's Android software. "…We believe RIM will need to sell the company," Cannacord said.
However, Baird Equity Research, under the heading "Marching off the cliff", said it believed there was no likely buyer.
CIBC cut its rating on RIM to "sector underperformer" from "sector outperformer." National Bank Financial, however, raised its rating to "sector perform" from "underperform", saying it was time to get off short positions.
RIM said on Thursday it lost $192 million, or 37 cents per share, for the first quarter ended June 2. Revenue declined 43 percent to $2.81 billion.
The company's shares, which have dropped about 70 percent over the past year, were trading at $7.55 in pre-market trading. The stock closed at $9.46 in Toronto on Thursday.
(Reuters) – (Reporting by Sagarika Jaisinghani in Bangalore; Editing by Tenzin Pema and Ted Kerr)