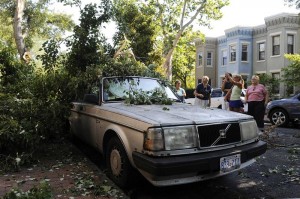 About 3.9 million homes and businesses were without power on Saturday amid a record heat wave in the eastern United States after deadly thunderstorms downed power lines from Indiana to New Jersey.
Statewide emergencies were declared in Washington D.C., Ohio, Virginia and West Virginia because of damage from overnight storms, which brought hurricane-force winds along a 500-mile stretch. At least nine people were killed.
Forecasters predicted more severe thunderstorms partnered with renewed heat on Saturday.
Restoring power in some areas could take up to a week. Utilities in Ohio and Virginia described damage as catastrophic.
"It's going to be a while before some folks get power, and with the heat, that's our big concern," said Bob Spieldenner, a spokesman for the Virginia Department of Emergency Management.
More than 1 million Virginia customers had no power in the worst outage not linked to a hurricane in the state's history, he said.
Six people were killed in Virginia in storm-related incidents.
Utilities or state emergency agencies reported the following outages and damage:
– Maryland: About 869,000 customers without power with outages reported in every county.
– West Virginia: More than 600,000 customers without power.
– Ohio: Power out across two-thirds of state, about 1 million homes and businesses without electricity, and one storm-related death reported. Governor John Kasich said power could take a week to be restored fully.
– New Jersey: Atlantic County declared a state of emergency, and at least 206,000 customers were without power. Two cousins ages 2 and 7 were killed by a falling tree in state park.
– District of Columbia: 67,000 power customers affected. State of emergency declared.
– Pennsylvania: 32,500 homes and businesses without power.
– Indiana: 135,000 customers with power lost.
– Kentucky: 187 customers without power.
– North Carolina: 618 homes and businesses with power lost.
The storm also knocked out Amtrak passenger rail service between Washington and Philadelphia, Amtrak said in a statement.
Power companies called in crews from utilities in neighboring states to help restore electricity.
FEEL THE HEAT
The widespread power outages came as the National Weather Service forecast more heat and severe thunderstorms across the Ohio Valley and into the northern mid-Atlantic states.
State and local officials urged residents to seek air-conditioned areas, drink lots of water and wear light-colored clothing. They also called for people to watch out for those most vulnerable to high heat – the elderly, small children and the mentally ill.
"Our biggest concern right now is temperatures going up to 100 degrees today," said Ed McDonough, spokesman for the Maryland Department of Emergency Management.
Records for June were broken on Friday in Washington, Atlanta, Nashville, Tennessee and Louisville, Kentucky. The temperature hit at least 104 F (40 C) in all four cities, according to the National Weather Service.
The high temperatures were blamed for the deaths of two brothers, ages 3 and 5, in Bradley County in eastern Tennessee. They had been playing outside in 105-degree heat.
The high heat prompted the AT&T National golf tournament at the Congressional Country Club in Bethesda, Maryland, to close the competition to spectators and volunteers on Saturday.
WASHINGTON (Reuters) – (By Ian Simpson; Additional reporting by Paul Thomasch in New York, Susan Guyett in Indianapolis and Tim Ghianni in Nashville; Editing by Bill Trott and Jackie Frank)