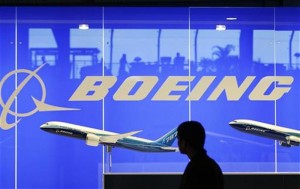 Planemaker Airbus was left reeling on Friday as a high-profile customer defected to Boeing, prompting European accusations of aggressive tactics amid renewed evidence of a jet price war.
Silkair, the regional arm of Singapore Airlines , said it had placed the biggest order in its history with a tentative deal to buy over 50 Boeing 737 jets worth $5 billion.
The move came as figures showed Boeing outselling Airbus by more than two to one in the first seven months of the year, reversing a deficit seen last year when Airbus broke industry records with a fuel-saving version of its competing A320 jet.
The world's dominant planemakers have been locked in a tense contest for market share since late 2011, slashing prices to take maximum advantage of the chance to lock in customers for the A320neo and Boeing's response, the 737 MAX.
Such 150-seat medium-haul jets are the bread and butter of low-cost airlines and feed the hubs of large network carriers, with potential sales of $2 trillion over the next 20 years.
SilkAir said it had agreed to buy 23 Boeing 737-800 aircraft, Boeing's current benchmark model, and 31 of the upgraded jets called 737 MAX 8, plus options for more.
The A320neo and 737 MAX offer fuel savings of roughly 15 percent together with other design improvements, sparking a rush of demand from airlines seeking to ease their highest cost in an industry that suffers from chronically slim profit margins.
The airline did not disclose the price of the deal, but carriers typically receive significant discounts, often bringing total concessions to more than 50 percent of list prices, according to analysts and estimates derived from leasing data.
"The selection of the B737 follows detailed evaluations and extensive negotiations with both Airbus and Boeing," SilkAir Chief Executive Marvin Tan said in a statement.
FLIP FIGHT
Airbus and Boeing have accused the other of heavy-handed pricing as the frontier between the big Western jetmakers – which typically split the market for medium-haul jets – takes time to stabilize after the upheaval of new products.
"We have no comment to make on the purchase decision by Silkair. However, Boeing has clearly made an extremely aggressive offer to win this deal in an attempt to catch up with the huge success worldwide of the A320 family," said Airbus spokesman Stefan Schaffrath.
Boeing was not immediately available for comment.
Shares in both companies rose amid a broad market rally.
After a number of losses to Airbus including part of a major American Airlines deal last year, industry sources have said Boeing has been expected to push back as the two rivals engage in the sport of "flipping" or converting targeted customers.
Other big contests are looming in Turkey and the Philippines.
Separately, China Southern <1055.HK> said its subsidiary Xiamen Airlines had also agreed to buy 40 Boeing 737 aircraft as it expands internationally.
That deal will be seen as more routine as major Chinese carriers tend to give roughly equal treatment to Airbus and Boeing over time for narrowbody jets, though a diplomatic row over carbon rules has disrupted orders for larger Airbus jets.
But it added to a grim day for Airbus as data showed its total orders had barely scraped above 300 aircraft in the first seven months of the year, giving it a 30 percent market share against Boeing which is rebounding from a record loss in 2011.
The EADS unit said it had sold 301 aircraft and received 31 cancellations between January and July, for a net total of 270 sales of its passenger jets. It delivered 326.
Boeing sold 736 aircraft and took 36 cancellations over the same period and appears on course to recover the industry's No. 1 spot on an annual basis for the first time since 2006.
By Tim Hepher and Charmian Kok
PARIS/SINGAPORE (Reuters) – (Editing by Christian Plumb)