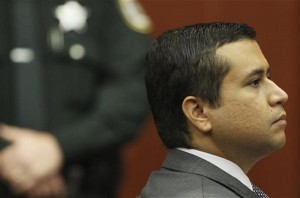 Lawyers for a Florida man charged in the shooting of black teenager Trayvon Martin said on Thursday they would seek a hearing under the "Stand Your Ground" self-defense law that could result in the dismissal of criminal charges against him.
George Zimmerman's lawyers said they saw "clear support for a strong claim of self-defense" after prosecutors released much of their evidence in the case.
Zimmerman, 28, has pleaded not guilty to second-degree murder in the February 26 shooting death of Martin in Sanford, Florida. He claims he shot the unarmed 17-year-old in self defense while acting as a neighborhood watch volunteer.
Florida's "Stand Your Ground" law allows people to use deadly force when they fear great bodily harm or death.
"Since the beginning, there has been a rush to judgment in the case against George Zimmerman," the lawyers said in a statement.
In a hearing under "Stand Your Ground," a judge, not a jury, determines whether evidence meets criteria laid out in the law, said David Weinstein, a former Florida state and federal prosecutor now in private practice in Miami.
"If Zimmerman wins the hearing, it's case over," he said.
Weinstein added the hearing would also amount to a "dry run of a trial" if one is held.
Lawyers for Zimmerman said it would take several months to prepare for the hearing, which they said will focus on whether Zimmerman "reasonably believed that his use of his weapon was necessary to prevent bodily harm to himself."
Zimmerman shot and killed Martin during a fight in a gated community of Sanford, where Martin was visiting his father. Martin walking back from a store when Zimmerman called a 911 dispatcher and said the teen looked suspicious.
Zimmerman said he shot Martin after Martin attacked him and repeatedly slammed his head to the ground. Police initially declined to arrest Zimmerman, citing the self-defense law.
Ben Crump, a lawyer for Martin's family, said he expects the case will eventually go to trial.
"A grown man cannot profile and pursue an unarmed child, shoot him in the heart and then claim 'Stand Your Ground,'" he said in statement. "We believe that the killer's motion will be denied."
Zimmerman is currently free on a $1 million bond and living in an undisclosed safe house near Sanford.
By Kevin Gray
MIAMI (Reuters) – (Additional reporting by Barbara Liston in Orlando and David Adams in Miami; Editing by Doina Chiacu)