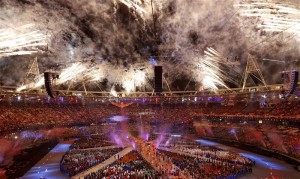 London looked back on the Olympics on Monday with satisfaction and sorrow, confident it had hosted a successful Games yet aware that the 17-day party was over and it was back to the reality of economic recession and painful spending cuts.
As thousands of athletes flew out of Britain, newspapers at home and abroad were glowing in their praise of a Games that fired the imagination of the host nation and provided plenty of memorable sporting moments.
"The world's verdict is unanimous," best-selling newspaper the Sun trumpeted in an editorial after millions stayed up late on Sunday for an exuberant closing ceremony featuring some of the biggest acts in British pop, including Take That and The Who.
"Our Games were sensational. We absolutely nailed it," it added. "So let's be very proud today. To be British is to be a winner again."
Many overseas commentators concurred. Kevin McCallum, the lead sports correspondent for The Star newspaper in South Africa, singled out British long distance runner Mo Farah and Jamaican sprint champion Usain Bolt in his column.
"These were the friendly Games of a people in love with them. These were the fairy tale Games of Mo Farah. These were the rock'n'roll Games of Usain Bolt. These were my games, and I'll miss them."
SENSE OF LOSS
That sense of loss was shared by many, including London's eccentric mayor Boris Johnson, who, like Prime Minister David Cameron and senior royals, was a frequent visitor to the Games and has enjoyed a boost in popularity as a result.
"It's certainly true I did feel a momentary mad desire last night not to give (International Olympic Committee president) Jacques Rogge that flag," he told reporters, referring to the handover of the Olympic flag to 2016 hosts Rio de Janeiro.
"I almost yanked it back. But I suppose there are two emotions. One is obviously some sadness that it is all over … but also a great relief because there is no doubt it has been a prodigious exertion by London and by Londoners."
The sense of achievement was in stark contrast to that of foreboding in the build-up to the tournament, when an embarrassing shortage of security guards and concerns over urban transport chaos had dominated the debate.
Add to that a price tag of more than $14 billion during an economic downturn, not to mention nagging fears of a terrorist attack, and the sense of relief is palpable now it is all over.
For a small handful of participants the saga of London 2012 was not yet over.
In a sobering reminder of the problems big business sport still faces from dope cheats, Olympic women's shot put champion Nadzeya Ostapchuk of Belarus was stripped of her gold medal on Monday after testing positive for a banned substance.
And a Congolese judo player and three other members of the central African country's Olympic delegation have gone missing in London, local media reported, adding to the list of seven other African athletes who vanished during the Games.
ATHLETES HEAD HOME
Heathrow airport expected to see off thousands of Olympic athletes and officials on Monday, many of them having taken part in the closing ceremony at the main stadium in long-depressed east London late on Sunday.
The exuberant showcase of British pop, culture and fashion included the Spice Girls, Madness, George Michael and a cast of thousands of volunteers, and played out before another packed audience at the 80,000-capacity arena.
During a special eight-minute segment, the stadium was bathed in the colors and sounds of Brazil, as the Olympics looked ahead to 2016.
The Who had the final word with "My Generation", an echo of the London 2012 motto "Inspire a Generation", as organizers and the government strive to ensure a lasting public legacy that goes beyond expensive white elephants and unpaid bills.
Cameron's spokesman said the economic benefits associated with the Olympics would be around $20 billion, a figure some experts have called into question.
"There are wider benefits to having the Olympic Games – seeing the nation coming together, seeing all the wonderful people volunteering for the games," he added.
Fulfilling promises of a "cheeky" and "cheesy" close, Eric Idle of Monty Python sang "Always Look on the Bright Side of Life", there was a giant inflatable octopus and a real-life "human cannonball" flew through the air.
LIGHTNING STRUCK THRICE
The stadium was the setting for some of the most spectacular moments of the Games, including Bolt defending the 100 and 200 meters and 4×100 relay titles he won in Beijing, the last of these in a world-record 36.84 seconds.
British athletics fans will also cherish memories of the venue, where Somali-born Londoner Farah won the 5,000 and 10,000 meters double to deafening roars and was celebrated as a symbol of the capital's multiculturalism.
The hosts won 29 golds, their best result for 104 years, to take third place in the rankings, helping lift a nation where social stability is not taken for granted after violent summer riots and looting swept parts of the capital and other cities.
Many will remember London 2012 for the record-breaking exploits of American swimmer Michael Phelps, who took his life-time medal haul to 22 including 18 golds, making him the most decorated Olympian in history.
His tally helped the United States to the top of the Olympic table with 46 golds to second-placed China's 38, reversing the order of the Beijing Games in 2008.
Despite concerns about the creaky transport system and a shortfall of private security guards, which forced the government to call in thousands of extra troops to help screen visitors, the Games passed by fairly trouble free.
A furor over empty seats at several Olympic venues blew over, especially once the track and field showcase kicked in and drew capacity crowds for virtually every session.
By Mike Collett-White and Maria Golovnina
LONDON (Reuters) – (Additional reporting by Mohammed Abbas in London and Pascal Fletcher in Johannesburg; Editing by Alastair Macdonald and Will Waterman)