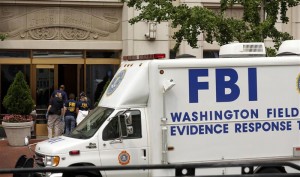 The man charged in a shooting at a conservative Christian lobbying group in downtown Washington told a guard "I don't like your politics" before wounding him, according to court documents filed on Thursday.
Floyd Lee Corkins II, 28, of Herndon, Virginia, also was carrying 15 sandwiches from Chick-fil-A, a fast-food chain, in the Wednesday shooting at the Family Research Council, a criminal complaint said.
The Family Research Council strongly opposes same-sex marriage and abortion, and Corkins had worked as a volunteer at a Washington center for homosexuals, bisexuals and transgender people. Chick-fil-A's president has publicly opposed same-sex marriage.
Corkins' parents told FBI agents that Corkins "has strong opinions with respect to those he believes do not treat homosexuals in a fair manner," the complaint said.
Corkins faces a District of Columbia charge of assault with intent to kill while armed. He also is charged with interstate transportation of a firearm and ammunition.
He will make an initial appearance in U.S. District Court on Thursday afternoon, the U.S. Attorney's office said.
The complaint said Corkins entered the offices of the Family Research Council and was stopped at the door by a security guard, according to the complaint.
A witness told FBI agents that Corkins "stated words to the effect of, 'I don't like your politics,'" the complaint said.
Surveillance camera footage showed that Corkins then pulled a Sig Sauer 9mm pistol from a backpack and shot the guard in the arm. The wounded guard wrestled the gun from Corkins and subdued him. A second guard called 911, the complaint said.
Investigators recovered two more loaded magazines at the scene. They found another 50 rounds of ammunition and the Chick-fil-A sandwiches in Corkins' backpack.
The complaint said that Corkins lived with his parents. He had left their car at a Virginia subway station before the attack.
Corkins faces up to 10 years in prison for the federal weapons charge and up to 30 years for the District of Columbia offense. The District of Columbia charge carries a mandatory minimum sentence of five years.
WASHINGTON (Reuters) –  (Reporting by Ian Simpson; Editing by Xavier Briand)