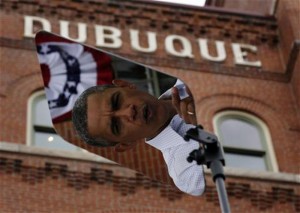 He avoids the State Fair bumper cars, speaks to smaller groups, and makes fewer promises than he did in 2008.
Four years after Iowa propelled President Barack Obama to the White House, he needs the state more than ever, but a tour through his old campaign stomping grounds this week revealed a much different political climate – and a much different candidate — than the Iowa and the Obama of four years ago.
The crowds are smaller and his motorcade is larger than when he beat Hillary Clinton in Iowa and took a huge step toward becoming his party's nominee.
The economy in Iowa is rougher now and even the weather is worse in the drought-hit state.
Enthusiasm for Obama — still high among Democrats — is wavering among the independents and Republicans who formed part of the coalition that got him first elected.
Obama's three-day swing through Iowa was his longest campaign trip in one state so far this year. He spoke wistfully about how his life had changed since he was a comparably unknown candidate seeking the highest office in the land.
"The last time I went to the State Fair, Secret Service let me do the bumper cars. … I wasn't president yet, so I could do that," he said to laughter at a campaign event in Council Bluffs on Monday. "But not this time."
When he made it to the fair in Des Moines later that day, he wasn't allowed to get anywhere near the rides, though he did make a beeline for the Bud Light stand, where he bought beer for himself and a few bystanders.
Beer was a common theme throughout the tour. Much to the delight of the crowds, he told nearly every group he addressed that he had had a beer and pork chops at the fair.
"He's a real person. His whole family — everybody can relate to him," said Jan Bilsten, 57, a Democrat from Cedar Falls.
"I like to drink beer. Everybody likes to relax with a glass of wine or drink a beer," she said.
Obama's mentions of alcohol consumption could have been a subtle attempt to contrast himself with Romney, a Mormon, who does not drink.
Not everyone in Iowa was enthusiastic about Obama's presence. One of the first men whose hand Obama tried to shake at the fair told him "No, thank you," and turned away, scowling as the president made his way down the street.
Such indifference is evident in the polls. An average of polls by RealClearPolitics shows the Democrat up only 1 percentage point in Iowa over Republican Mitt Romney, his rival in the November 6 election.
"That enthusiasm that he saw the first time around just isn't there," said Tim Hagle, a political science professor at the University of Iowa.
Hagle noted another, perhaps more worrying trend for Obama: Republicans now have more registered voters in Iowa than Democrats, overcoming the more than 100,000 registered voters advantage in that Obama's party had after his victory in 2008.
DIFFERENT NUMBERS, SMALLER VENUES
So, just as he is doing in other swing states like Ohio and Colorado, the president is targeting independents and non-affiliated voters who might be swayed by an in-person visit.
In Marshalltown, roughly 555 people showed up to hear him speak. In Oskaloosa, there were 852. In Boone, there were more than 2,000, but the numbers are still a far cry from the many thousands he drew at events four years ago.
"There is plenty of time for big rallies," a campaign official said about the small crowd sizes.
"The president enjoys engaging with the crowds and knows from experience that the people of Iowa like to lift the hood and kick the tires — the medium-sized venues allow him to do that."
The smaller venues have not prompted Obama to take questions from those in attendance, however. In 2008 he regularly held "town hall" style meetings as a way of introducing himself to voters. Now his events remain strictly stage-managed.
He waves from the podium and shakes hands on the "rope line," but his words come primarily from the text on his TelePrompter.
Obama's policy positions have shifted, too. Despite referencing the highest temperatures Iowa has seen on record during a survey of drought-stricken corn crops, Obama did not mention climate change once.
Fighting global warming was one of the president's key policy promises in 2008, along with healthcare and financial regulation reform. He achieved the latter two, but legislation to curb greenhouse gases failed in the U.S. Senate.
By Jeff Mason
WATERLOO, Iowa (Reuters) – (Editing by Alistair Bell and Philip Barbara)