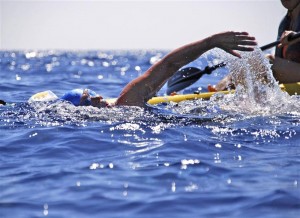 Veteran long-distance swimmer Diana Nyad was plucked from the Florida Straits on Tuesday after giving up on her fourth and likely final attempt to make the 103-mile (166-kilometre) swim from Cuba to the United States.
The 62-year-old American, who battled squalls and jellyfish, had set out from Cuba on Saturday. She had spent more than 60 hours in the water when she abandoned the swim.
Mark Sollinger, a leader of the crew and support team accompanying Nyad in five boats as she made the attempted crossing, told CNN a powerful and "extremely difficult Gulf Stream" had pushed her badly off course.
She had planned to land somewhere in the Florida Keys on Tuesday, a day ahead of her 63rd birthday on Wednesday. But it would have taken her another 28 to 40 hours to complete the crossing at the time she finally gave up, Sollinger said.
MIAMI (Reuters) –  (Reporting By Tom Brown; Editing by Eric Beech)