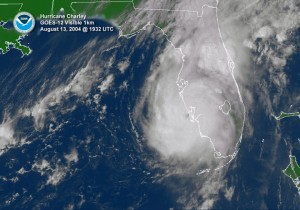 Tropical Storm Isaac swirled over the Caribbean on Wednesday and was forecast to become a hurricane as it moved on a track that would put it off the coast of Florida on Monday, the opening day of the Republican National Convention in Tampa.
The threat to the Caribbean was certain, with Isaac already closing in on the Leeward Islands and hurricane watches in effect for many places, including Puerto Rico and the U.S. and British Virgin Islands.
Isaac could also potentially threaten U.S. energy interests in the Gulf of Mexico, weather experts said. It was centered about 210 miles east of Guadeloupe early on Wednesday, the U.S. National Hurricane Center (NHC) said.
Isaac had top sustained winds of 45 miles per hour and was forecast to become a hurricane by Friday, as it neared the coast of Hispaniola, the island shared by the Dominican Republic and flood-prone Haiti. Computer forecast models showed the storm moving west-northwest across the island on Friday.
There was still a lot of uncertainty about the storm's path after its projected passage over Cuba on Saturday and Sunday. But computer models showed it making landfall in South Florida or brushing either side of the Florida Peninsula by late Sunday or early Monday.
REPUBLICAN CONVENTION
It is far too soon to say whether Isaac might take direct aim at Tampa, on Florida's Gulf Coast, where the Republican convention is set to run from Monday through Thursday.
But Lixion Avila, a senior hurricane specialist at the Miami-based NHC, suggested it would be foolish for anyone to think Tampa, where Republicans will nominate Mitt Romney as their presidential candidate, was out of harm's way.
"With the convention or without the convention, I can tell you this is August 22, hurricane season, and normally anywhere in Florida or the Gulf of Mexico we should monitor any system that forms," he said.
Tampa Mayor Bob Buckhorn, a Democrat, said he wasn't really worried about Isaac, however.
"We're watching it. We're tracking it. I think we're going to be OK but we'll be prepared in the event it heads this way," Buckhorn told CNN.
"We hope it moves further away from us, but if it doesn't it's still going to be a great convention and I think the Republican National Committee is going to be happy," he said.
OJ PRICE JUMP
Florida has not been hit by a major hurricane since 2005 and no one is forecasting that Isaac will strengthen into anything more than a weak Category 1, with top sustained wind speeds of about 80 miles an hour.
Still, the threat to Florida triggered a jump in New York orange juice prices on Wednesday, as they surged to a six-week high in early trading.
Florida produces more than 75 percent of the U.S. orange crop and accounts for about 40 percent of the world's orange juice supply, making it key to volatility in orange juice futures trading.
The Atlantic hurricane season runs from June 1 through November 30 and August has traditionally been an active month in the six-month period. Friday is the 20th anniversary of Hurricane Andrew, which caused widespread damage when it came barreling ashore south of Miami on August 24, 1992.
Lurking behind Isaac, the NHC said another tropical depression formed over the eastern tropical Atlantic on Wednesday, about 860 miles west-southwest of the Cape Verde Islands. It was packing winds of 35 mph and will take the name Joyce if it becomes a tropical storm.
MIAMI (Reuters) –  (Reporting by Tom Brown; Editing by Anthony Boadle)