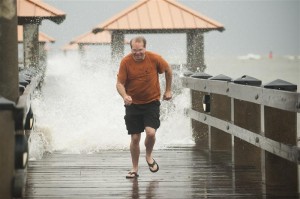 Hurricane Isaac drove water over the top of a levee on the outskirts of New Orleans on Wednesday, triggering life-threatening flooding seven years to the day after Hurricane Katrina, authorities said.
Emergency management officials in low-lying Plaquemines Parish reported the overtopping of the 8 or 9 foot (2.4 or 2.7 meter) high levee between the Braithwaite and White Ditch districts southeast of New Orleans.
Plaquemines Parish President Billy Nungesser said about 2,000 residents of the area had been ordered to evacuate but only about half were confirmed to have gotten out before Isaac brought driving winds and rain beginning late on Tuesday.
"On the east bank right now, we have reports of people on their roofs and attics and 12 to 14 foot of water (in their homes)," Nungesser told CNN.
"This storm has delivered more of a punch than people thought," he added.
It was not immediately clear how many people may have been stranded in the area, as torrential rain and hurricane-force winds prevented a full-scale search.
"The sheriff's deputies are over there but all the roads are unpassable … We don't know if some people are left behind and now we can't get there and there is no way we can operate a boat or an air boat in these winds," Nungesser said.
Isaac was the first test for multibillion-dollar flood defenses built after levees failed under Katrina's storm surge, leaving large parts of New Orleans swamped and killing 1,800 people, the costliest natural disaster in U.S. history.
Plaquemines Parish was outside the city limits that benefited from the beefing up of New Orleans' flood defenses.
Hundreds in and around New Orleans drowned in 2005 and many survivors waited for days to be plucked from their rooftops by helicopter. New Orleans endured days of deadly disorder and widespread looting.
While not nearly as strong as Katrina – a Category 3 hurricane when it slammed into New Orleans on August 29, 2005 – Isaac, with Category 1 winds up to 80 mph, was a threat that authorities said should not be underestimated.
At 7 a.m. EDT (1100 GMT), Isaac was about 50 miles south-southwest of New Orleans and packing top sustained winds of 80 miles an hour, the U.S. National Hurricane Center said.
It said hurricane force winds extended outward up to 60 miles from the storm's center.
Isaac was slogging west-northwestward near 6 mph, a slow pace that increases the threat of rain-induced flooding.
WIDESPREAD FLOODING EXPECTED
Isaac killed at least 23 people and caused significant flooding and damage in Haiti and the Dominican Republic before skirting the southern tip of Florida on Sunday and heading across the warm waters of the Gulf of Mexico.
It spared Tampa, Florida, where the Republican National Convention is being held. But it forced party leaders to reshuffle the schedule and tone down what some might have seen as excess celebration about Mitt Romney's presidential nomination as Gulf Coast residents faced danger.
The leading edge of the storm was felt along the Gulf Coast starting late Tuesday, and authorities had warned it could flood towns in Mississippi and Alabama, as well as Louisiana, with storm surges of up to 12 feet.
Rainfall accumulations, potentially totaling as much as 20 inches in some areas, were expected to trigger widespread flooding.
Energy companies along the Gulf Coast refining center braced for the storm's impact by shuttering some plants and running others at reduced rates ahead of Isaac's landfall.
Oil production in the U.S. Gulf of Mexico nearly ground to a halt and ports and coastal refineries curtailed operations.
Intense hurricanes such as Katrina – which took out 4.5 million barrels per day of refining capacity at one point – have flooded refineries, keeping them closed for extended periods and reducing fuel supplies.
This time, though, the U.S. Department of Energy estimated that only 12 percent of the Gulf Coast's refining capacity had gone offline. Louisiana usually processes more than 3 million barrels per day of crude into products like gasoline.
Perceptions that the area's oil facilities would not sustain major damage, and that production would quickly bounce back, pushed international benchmark Brent crude down 74 cents early Wednesday, toward $111.84 a barrel.
NEW ORLEANS (Reuters) – (By Scott Malone and Kathy Finn; Additional reporting by Ben Gruber in New Orleans, Emily Le Coz in Tupelo, Missisippi, Kristen Hays, Erwin Seba, Chris Baltimore in Houston, and Ellen Wullhorst in New Orleans; Writing by Tom Brown and Ros Krasny; Editing by Vicki Allen)