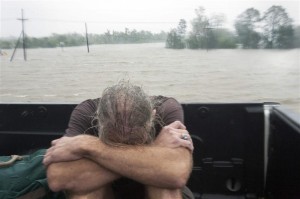 Floodwater from Hurricane Isaac jumped a levee on the outskirts of New Orleans on Wednesday, but the multibillion-dollar barriers built to protect the city itself after the 2005 Katrina disaster held firm, officials said.
The lumbering cyclone, which weakened to a tropical storm on Wednesday afternoon, threatened to flood oil refineries and towns in Louisiana and neighboring Mississippi with a deluge of rain, storm surges up to 12 feet and top sustained winds up to 70 miles per hour (113 km per hour).
Highway 90, a key interstate roadway on Mississippi's Gulf Coast, was washed out by the storm, which triggered widespread power outages and was expected to bring rainfall accumulations totaling as much as 20 inches to some areas.
"The federal levee system … is fine," New Orleans Mayor Mitchell Landrieu told local radio.
"There are no risks. It is holding exactly as we expected it to and is performing exactly as it should," he said.
As torrential rains fell on the city, Landrieu later cautioned that it was too soon to declare victory.
"We are very much in this fight of Hurricane Isaac," he said. "Unfortunately this storm just won't seem to leave us."
Police and National Guard units, many wielding automatic assault rifles, patrolled the virtually empty downtown of the port city, which normally hums with tourists drawn to its jazz bars, Creole cuisine and French colonial architecture.
Tree limbs and street signs littered the streets, and power was out in much of the city, which was devastated by Hurricane Katrina exactly seven years ago.
Authorities reported no security problems, other than four arrests for looting, but Landrieu said he was clamping a dusk-to-dawn curfew on New Orleans nonetheless.
"We're going to have a zero tolerance for lawlessness during this emergency," he said.
In low-lying Plaquemines Parish, which stretches southeast from New Orleans, emergency officials reported the overtopping of an 8-foot (2.4-meter) high levee between the Braithwaite and White Ditch districts.
Plaquemines Parish President Billy Nungesser said about 2,000 residents of the area had been ordered to evacuate but only about half were confirmed to have gotten out before Isaac made landfall late on Tuesday.
Isaac was wobbling northwestward near six mph, a slow pace that increases the threat of rain-induced flooding.
"This storm has delivered more of a punch than people thought," Nungesser told CNN.
Plaquemines Parish is cut in two lengthwise by the Mississippi River as it flows to the Gulf of Mexico. Much of it lies outside the greater New Orleans levee system, and construction projects to bolster protection are not complete.
A total of at least 118 people were rescued in Plaquemines, including 25 trapped on their roofs or attics as water rose 14 feet, authorities said.
Private citizens in their boats led the rescue effort, Nungesser said, referring to seasoned boatmen from the Mississippi Delta and bayous popularly known as the "Cajun Navy."
"We had some brave citizens," he said. "No one thought this storm was going to do what it did to Placquemines Parish."
Local television showed rescuers in a small boat chopping through the attic window of a house to pull a man and his four dogs to safety in the Braithwaite subdivision, a neighborhood of brick houses that were submerged up to the first floor in floodwater.
Jesse Shaffer, a 25-year-old Braithwaite resident, told reporters he and his father, 53, personally rescued more than 20 people during several outings in their fishing boat. He said that included three children, ages 3 to 6, rescued from the roof of a totally submerged house on the verge of being washed away.
There were no immediate reports of injuries or deaths.
BLACKOUTS
Isaac was the first test for the $14.5 billion flood defense system of walls, floodgates, levees and pumps built after Katrina's storm surge. Katrina left large parts of New Orleans swamped and killed 1,800 people in the costliest natural disaster in U.S. history.
Hundreds in and around New Orleans drowned in 2005 and many survivors waited for days to be plucked from their rooftops by helicopters. New Orleans endured days of deadly disorder and widespread looting.
While not nearly as strong as Katrina — a Category 3 hurricane on the five-step Saffir-Simpson scale when it slammed into New Orleans on August 29, 2005 — Isaac was a threat that authorities had warned repeatedly about underestimating.
Timothy Doody, president of the Southeast Louisiana Flood Protection Authority, said the storm surge from Isaac had seen the Mississippi River rise eight feet in New Orleans between early Tuesday and Wednesday.
"The water coming up into the Mississippi River appears to be more than forecast," he said.
The river, which had been extremely low due to the extended Midwest drought, was at three feet before the storm and the level rose to 11 feet, Doody said.
Some 409,000 Louisiana customers of utility Entergy Corp were without power as of Wednesday morning, the company reported. It warned that it would be unable to begin restoring power until winds drop below 30 mph.
Areas affected by power outages included about 60 percent of New Orleans.
At 3 p.m. EDT (1900 GMT), Isaac weakened from a hurricane back to tropical storm status. It had top sustained winds of 70 mph and was centered about 50 miles west-southwest of New Orleans, the U.S. National Hurricane Center said.
Isaac killed at least 23 people and caused significant flooding and damage in Haiti and the Dominican Republic before skirting the southern tip of Florida on Sunday and heading across the warm waters of the Gulf of Mexico.
It spared Tampa, Florida, where the Republican National Convention is being held. But it forced party leaders to reshuffle the schedule and tone down what some might have seen as excess celebration about Mitt Romney's presidential nomination as Gulf Coast residents faced danger.
Oil production in the U.S. Gulf of Mexico nearly ground to a halt as Isaac closed in on Louisiana on Tuesday and ports and coastal refineries curtailed operations.
On Wednesday, oil markets focused on whether the storm could flood regional refineries in the key fuel producing hub.
Intense hurricanes such as Katrina — which took out 4.5 million barrels per day of refining capacity at one point — have flooded refineries, keeping them closed for extended periods and reducing fuel supplies.
Louisiana usually processes more than 3 million barrels per day of crude into products like gasoline.
Perceptions that the area's oil facilities would not sustain major damage left international benchmark Brent crude little changed in Wednesday afternoon trading at about $112.70 a barrel.
NEW ORLEANS (Reuters) – (By Ellen Wulfhorst and Scott Malone; Additional reporting by Ben Gruber and Kathy Finn in New Orleans, Emily Le Coz in Tupelo, Missisippi, Kristen Hays, Erwin Seba and Chris Baltimore in Houston and David Adams in Miami; Writing by Tom Brown; Editing by Vicki Allen, Eric Beech and Paul Simao)