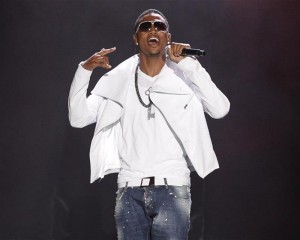 R&B artist Trey Songz topped the Billboard 200 album chart on Wednesday with his latest album "Chapter V," edging out three other new entries on the chart this week.
Songz's fifth studio album sold 135,000 copies according to Nielsen SoundScan, pushing last week's chart-topper "Based On A T.R.U. Story" from rapper 2 Chainz to No. 2 with 48,000 copies.
DJ Khaled's sixth studio album "Kiss The Ring" debuted at No. 4 with 41,000 copies sold, behind the compilation of various artists on the "Now 43" album, which dropped one spot to No. 3 this week with sales of 45,000 units.
Electronic-indie act Owl City (real name Adam Young) debuted at No. 7 with his fourth studio album "The Midsummer Station," selling 30,000 copies in its first week, fueled by his hit single "Good Time" featuring Carly Rae Jepsen.
Christian music band Tenth Avenue North had the fourth debut in the top ten of the Billboard 200 chart. Their third studio album, "The Struggle," came in at No. 9 with 26,000 copies sold.
Justin Bieber's "Believe" took No. 5 in its 10th week in the chart, while Maroon 5's "Overexposed" notched No. 6, Rick Ross' "God Forgives, I Don't" dropped from No. 3 to No. 8, and One Direction's "Up All Night" rounded out the top ten.
Over on the Digital Songs chart, Taylor Swift safely held onto the No. 1 position as her latest hit "We Are Never Ever Getting Back Together" sold 307,000 downloads in its second week. Maroon 5's "One More Night" climbed from No. 4 to No. 2 with 195,000 downloads while Flo Rida's "Whistle" dropped one place to No. 3 with 180,000 downloads.
LOS ANGELES (Reuters) – (By Piya Sinha-Roy; Reporting By Piya Sinha-Roy; Editing by Bob Tourtellotte and Andrew Hay)