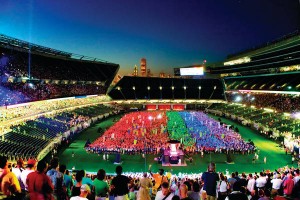 The international Federation of Gay Games today announced approval of new sports for bidding for Gay Games X.
This is the latest step in the bidding process for the 2018 event, for which groups from five cities (Amsterdam, Limerick, London, Orlando, and Paris) are still in the running.
Bidders were allowed for the first time in 2009 to apply for prior authorization of sports not currently on the FGG list of approved sports. During that cycle, bidders from Cleveland took advantage of this opportunity to request approval for Rodeo, which was granted, and which will be included as an associated event in Gay Games 9 in Cleveland+Akron in 2014 (www.gg9cle.com).
The current cycle for Gay Games X in 2018, which will see a host chosen in October 2013, has seen an explosion in these requests. Bidders from Limerick requested permission to include Boxing and Wheelchair Rugby in their bid, while Paris requested the authorization for no fewer than five sports: Archery, Fencing, Pétanque, and Polo, as well as Roller Derby, a sport also requested by the London group. All requests have now been approved, with the exception of Polo.
FGG sports officer Sébastien Datiche (Tours, France) explained that when considering these requests, the FGG looked at a variety of issues, including accessibility for disabled participants, gender balance, diversification of skill areas and body types, and general operational and financial viability: "Discussion on these matters was lively, and we are pleased that the FGG Sports Committee was able to process these requests so quickly. Of course, even if we approve a sport, the bidding organization requesting it may or may not include it in their bid. In any case, we are very pleased to see these requests which show the growing diversity of sports in which LGBT people are involved."
Datiche's female counterpart, FGG sports officer Martha Ehrenfeld (San Francisco), spoke of the increasing flexibility of the Gay Games sports program: "We remain committed to our list of some thirty core sports, but first in bidding for Gay Games 9, and now for Gay Games X, we have allowed greater choice for bidders. Bidders can opt out of a certain number of core sports, and replace them, if they choose, with others from our list of additional sports, or, as we see here, request permission to include totally new sports. The only firm limit is the total number of sports, set at 36, which we think is already a lot to manage so as to ensure the best possible competitive experience for participants in the Gay Games."
Federation officer for site selection Dennis Sneyers (Chicago) discussed the FGG's goal of a balanced sports program that respected the desires and capacity of its host organizations: "There are sports that in terms of numbers and history will always be an integral part of the Gay Games. For instance, we simply cannot imagine an event without swimming or volleyball or running events. But we also want to reach out to the athletic community with sports that offer new experiences for new participants. And we recognize the impact that including a sport in the Gay Games can have for visibility for a sport and for LGBT participation in it. So many of today's LGBT sport clubs and organizations were born from the Gay Games, and by offering the possibility for new sports to be showcased in the 2018 Games, we hope to continue the goal of the Gay Games to be an incubator for new groups around the world. Our mission is to promote LGBT equality, and by encouraging our hosts to reach out to new participants, we expand the opportunity to share the empowering experience of the Gay Games."
Sneyers concluded: "With the approval of these requests, bidding organizations will be able to finalize their sports programs, a key element in their bid books, due in late February 2013. It's only then that we will see each organization's vision of how Gay Games X can promote equality through sport and culture. The final decision on the host of Gay Games X will take place at a special meeting of FGG delegates, officers and volunteers in October 2013 in Cleveland, host with Akron of Gay Games 9 in August 2014."
Reminder of sports available for Gay Games X sports program
List A: Core Sports
Aquatics – Diving
Aquatics – Open Water Swimming
Aquatics – Swimming
Aquatics – Synchronized Swimming
Aquatics – Water Polo
Athletics – 5K and 10K Road Races
Athletics – Marathon and Half Marathon
Athletics – Track and Field 23 Softball
Badminton
Basketball
Bodybuilding
Bowling
Cycling – Mountain Bike
Cycling – Road Races
DanceSport
Figure Skating
Golf
Ice Hockey
Martial Arts
Powerlifting
Racquetball
Soccer (Football)
Softball
Squash
Table Tennis
Tennis
Track and Field
Triathlon
Volleyball
Wrestling
List B: Additional Sports
Aerobics
Beach Volleyball
Bridge
Chess
Darts
Field Hockey
Flag Football
Handball (i.e. Team Handball)
In-line Speed Skating
Judo
Netball
Pool (Billiard)
Rodeo
Rugby (Touch)
Rugby 15s (Union)  (planned to expand to include Rugby 7s)
Rowing
Sailing
Sport Climbing
Sport Shooting
List C: Approved New Sports
Archery
Boxing
Fencing
Pétanque
Roller Derby
Wheelchair Rugby