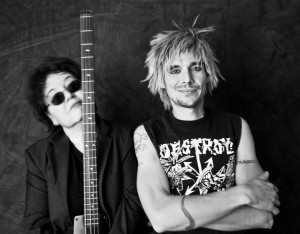 Logo TV and SiriusXM's Out Q will present DEVIL-MAY-CARE, a monthly concert series devoted to gay music acts, at The Cutting Room, Chris Noth's newly opened Park Avenue hotspot that has already played host to the likes of Billy Joel, Emmylou Harris, Tommy Ramone and Glen Matlock. (And the original Chelsea location holds the distinction of being the venue where Lady Gaga was first signed.) This monthly Thursday music showcase, named after an antiquated euphemism for "gay," will feature a variety of music acts from around the globe.
The inaugural DEVIL-MAY-CARE will be presented Thursday, January 10 at 10pm. The evening will feature the New York concert premiere of Australian Idol sensation Courtney Act, the return of chart-topping pop trio The Ones, disco-licious new group Liquid Diet and Provincetown's acclaimed duo Scream Along With Billy. The evening will be recorded live and and will air as a special concert presentation on SiriusXM's OutQ channel.
After becoming a finalist on TV's Australian Idol, drag performer and vocalist Courtney Act has opened for Lady Gaga's Australian club tour; scored a record deal with Sony/BMG; sung a duet with Idina Menzel; been voted one of FHM's World's Top 100 Sexiest Women (despite not actually being a woman) and one of the World's Most Influential People by Out Magazine; graced the catwalk of Australian Fashion Week; played Angel in Rent; served as spokesmodel for Sheer Cover makeup; performed onstage at the Hollywood Bowl, made appearances on TV shows including Are You There Chelsea (NBC), Only In America with Larry The Cable Guy and, Australia's Next Top Model; and completed a 20 city US club tour (including XL in New York). Now, she returns to New York for her live concert debut.
The Ones are an American electronic dance music band, best known for their 2001 hit single "Flawless", which reached number 7 in the United Kingdom. The trio consists of three male vocalists Paul Alexander, JoJo Americo, and Nashom Wooden, who met while working at Patricia Field. Their debut single, "Flawless" (inspired by the 1999 film which Nashom appeared in, alongside Robert De Niro), became a hit, especially in Europe. In 2004, "Flawless" was sampled and had lyrics added to it by George Michael for his song "Flawless (Go to the City)". Michael's version reached number 8 in the UK, which gives "Flawless" the distinction of being a hit twice in Britain.
Often compared to such established acts as The Scissor Sisters, Animotion and The Human League, Liquid Diet is a scrumptious musical cocktail fronted by Aussie bombshell Georgia Haege and Californian charmer Billy Hanson. Music master Electronathan tops off the elixir.
The music of Liquid Diet has been described as "equal parts disco and electro, with a healthy dose of over-the-top lyrics." Released by NinthWave Records, the band's debut EP features the title track Hand Dance (an ode to self-pleasure), the disco-licious jam Nude, and a dreamy electro cover of George Michael's Father Figure. They have been seen at venues including Griffin, Le Poisson Rouge and Webster Hall.
Called "a cross between Justin Bond and Patti Smith" by Butt Magazine, Scream Along with Billy is the brainchild of Billy Hough (of the
GarageDogs) and Susan Goldberg. Launched in Provincetown, Massachusetts in the summer of 2006. Scream Along With Billy has become a hometown sensation, generating constant press attention, and capacity crowds including the like of John Waters, Dina Martina, Michael Cunningham, and Danny Fields. A live 2009 recording distributed at Marc Jacobs' stores internationally generated more critical acclaim including from Robert Christgau, whose "Consumer Guide" put the album on a short list with Bob Dylan and Tom Waits.
Their album Venice was released in April.
DEVIL-MAY-CARE takes place Thursday, January 10 at 10pm at The Cutting Room (44 East 32 Street, between Park and Madison — accessible from the #6 train at 33rd Street). Tickets are $12, with a $15 per person food/beverage minimum, at 212-352-3101 or SpinCycleNYC.com.