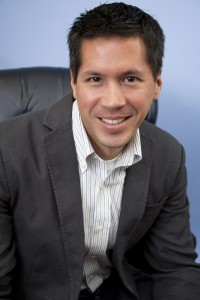 (WASHINGTON DC) David Hall, a former Air Force Sergeant discharged under the repealed "Don't Ask, Don't Tell" law and now Director of Development at OutServe-SLDN, has been chosen as one of eight Americans to serve as "citizen co-chairs" of President Barack Obama's inauguration, taking place this weekend in Washington, DC. The eight individuals highlight the President's first-term accomplishments.
"This is certainly the honor of a lifetime, and I am grateful to President Obama for his leadership in repealing 'Don't Ask, Don't Tell' so that no qualified American who wants to serve this country in uniform will ever again be denied that right simply because they are gay or lesbian," said Hall.
Hall will join the seven others named today in the National Day of Service on Saturday that kicks off the inaugural events over the Martin Luther King Jr. holiday weekend. He will attend the swearing-in ceremony Monday and along with the other co-chairs will ride on an inaugural parade float highlighting the inaugural theme of "Our People: Our Future." Monday evening, he will attend the official inaugural balls.
"There is a great deal more to do on the road to full LGBT equality in our military, but it's important for us to take a moment this weekend to honor the leadership of this President and recognize just how far we have come. There could be no better personification of that than former Air Force Sergeant David Hall," said Army Veteran and OutServe-SLDN Executive Director Allyson Robinson.
Hall joined the staff of Servicemembers Legal Defense Network (now OutServe-SLDN) in 2006 and currently serves as the organization's Development Director and Information Technology Manager. He joined the Air Force on March 6, 1996, following in the footsteps of his father and stepfather, who each served over 20 years in the Air Force. After basic training, he graduated from tech school with the second-highest score in his class and was assigned to the 27th Fighter Squadron at Langley Air Force Base in Hampton, Virginia.
At Langley, Hall was one of the top airmen in his flight. He worked as a weapons loader, winning several loading competitions and the Airman of the Quarter award. While based at Langley, Hall did a three-month assignment in Saudi Arabia, and was handpicked to go to Kuwait to help fix aircraft. He was also assigned to Elmendorf AFB in Anchorage, Alaska, assigned to the 90th Fighter Squadron and Weapons Standardization Section. While at Elmendorf AFB, he was a distinguished graduate from Airman Leadership School (ALS).
After receiving a strong recommendation from his active duty commander, Hall was honorably discharged as an enlisted member from the Air Force in August 2001 following his acceptance to the Air Force ROTC in May 2001. At that time, Hall had served five years and attained the rank of Staff Sergeant (E-5) with an Aircraft Armament Systems specialty.
During his active duty service, Hall received numerous awards including, the Air Force Achievement Medal, Air Force Commendation Medal, Air Force Longevity Service Award, Air Force Training Ribbon, NCO Professional Military Education Ribbon, Armed Forces Expeditionary Medal, Air Force Outstanding Unit Award, and Air Force Good Conduct Medal.
In March 2002, Hall received a coveted slot to train to be a pilot—an honor given to approximately 500 cadets nationwide each year. At the time Hall received this honor, he had the highest ranking of all the Air Force ROTC juniors in his detachment. In recognition of his talent and dedication, Hall was named a Cadet Captain and flight commander, soon advancing to the position of Operations Officer, Cadet Major, another leadership position.
Following his discharge under "Don't Ask, Don't Tell," Hall became a plaintiff in SLDN's constitutional challenge to the government's ban on open service.
For a complete listing of the Inaugural Citizen Co-Chairs, click here.
ABOUT OUTSERVE-SLDN: OutServe-SLDN is the association of actively serving LGBT military personnel with more than fifty chapters and 6000 members around the world It works to support a professional network of LGBT military personnel and create an environment of respect in the military with regard to sexual orientation and gender identity. It is a non-partisan, non-profit, legal services and policy organization dedicated to bringing about full LGBT equality to America's military and ending all forms of discrimination and harassment of military personnel on the basis of sexual orientation and gender identity. OS-SLDN provides free and direct legal assistance to service members and veterans affected by the repealed "Don't Ask, Don't Tell" law and the prior regulatory ban on open service, as well as those currently serving who may experience harassment or discrimination. For more information, visit www.outserve-sldn.org.