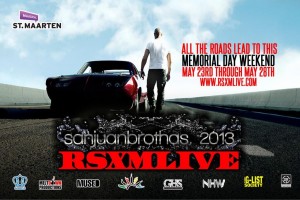 Musician and Actor Jussie Smollett whose credits include The Skinny, The Mindy Project and North will join take the helm of sanjuanbrothas' RSXM LIVE as host and guest Celebrity DJ along with R&B crooner Terrell Carter at this year's festival which is being held in St. Maarten, F.W.I. at the Sonesta Maho Resort.
The sanjuanbrothas festival which began in 1999 in San Juan, Puerto Rico was initiated as a need to gather LGBT communities of color for entertainment, networking, and community building. Over the past fourteen years the event has played host to the likes of Angie Stone, Keisha Cole, Heather Headley, Elisabeth Withers, Rah Digga, LaToya Luckett, Shanice, and superstar Alicia Keys.
Sanjuanbrothas has been and continues to be the most exciting event of the year with the addition of both Jussie and Terrell among others who will be announced in the coming weeks sanjuanbrothas truly is the next generation of destination festivals for a growing African American LGBT community.
The sheer essence of St. Martin exudes a sensual vibe unlike any other place in the world. Nowhere else will guests be able to party underneath the stars and hear the waves crash while experiencing some of America's hottest DJs and performers.  The Sonesta Maho Beach Resort will host this exquisite event with rates beginning at $145.00 and $180.00 inclusive packages available and luxury Villa availability for groups and couples.
Passports are required for entry onto St. Maarten. Travelers will be responsible for hotel and ground transportation. Events will begin on Thursday May 23rd through Tuesday May 28 th. Cost for all events will be a one-time price of $25.00 in advance and $50.00 on site. Guests will have the opportunity to purchase a la cart excursions to neighboring islands and watersports including submarine trips, snorkeling and catamaran.
"There's no smoke and mirrors here. No reinventing the wheel. We're not heroes or visionaries trying to save the world," says event team leader and television producer George H. Smith. "We just simply want to create the most amazing event ever for men of color and their guest."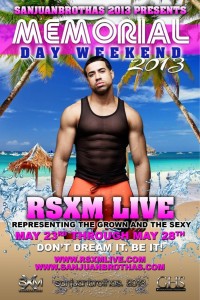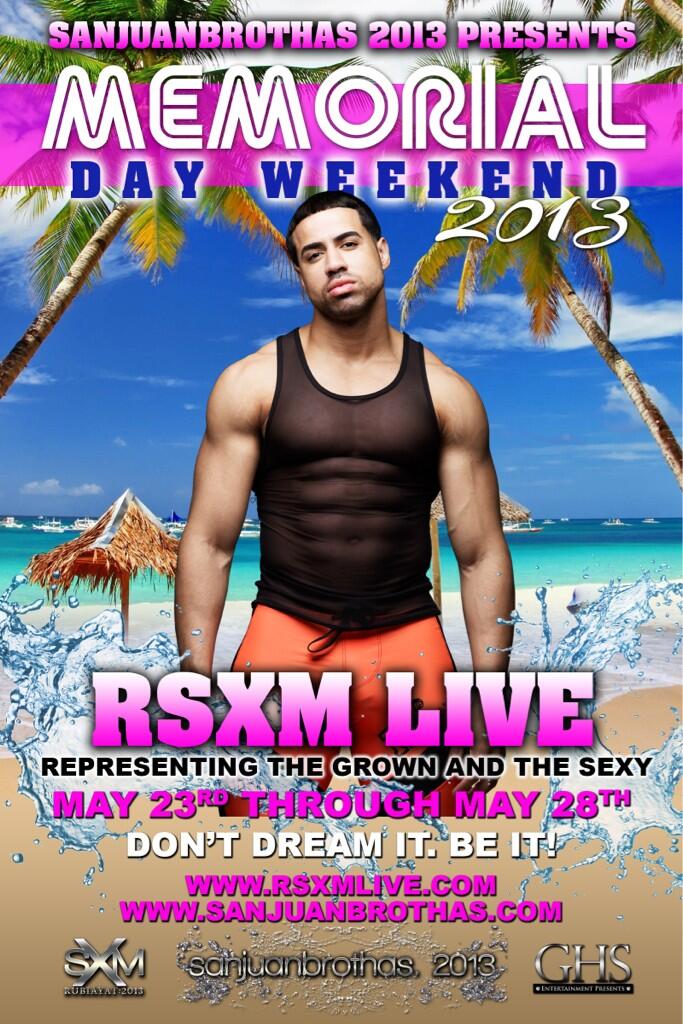 For event details please visit  www.ifoundmyisland.com.  Join us on Facebook at http://www.facebook.com/rsxm.live  and follow us on Twitter at @rsxm.  For inquiries please contact: info @rsxmlive.com. For further information on both Jussie Smollett and Terrell Carter please contact Biff Warren at biff@bentinc.com.   RSXM™ is an exclusive brand operated by b!ent inc., www.ifoundmyisland.com ® is a registered trademark of bent inc., All Rights Reserved.
Contact: Ra-Fael Blanco
Telephone: 646-326-4803
Email: tworsent@aol.com
Info@rsxmlive.com
SOURCE HQ