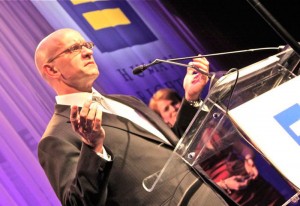 While it may seem inevitable that the U.S. Supreme Court will one day ride to the rescue of LGBT couples in Georgia and other states with constitutional bans on same-sex marriage, the justices gave little indication that they are ready to write that happy ending just yet, said Jeffery M. Cleghorn, a family law attorney in Atlantawhose practice includes same-sex legal issues.
"If the justices are inclined to strike down state bans on same-sex unions, they did an exceptional job of keeping their cards close to their vests, or their robes," Cleghorn said of the pair of gay marriage cases heard by the Supreme Court in late March.
The case of Hollingsworth v. Perry, popularly known as the Prop 8 case, has the potential to impact states such as Georgia, for if the Supreme Court rules that California's Proposition 8 is unconstitutional, it will cast greater scrutiny on the other 30 states that have voter-approved bans on same-sex marriage. However, during oral arguments on this case March 26, the justices spent much time debating whether they even had jurisdiction to rule on the case.
"With how much focus was put on the issue of 'standing,' I wouldn't be at all surprised if they issued a favorable ruling on that technicality," Jeffery Cleghorn said. "That would be a big win for LGBT couples in California and for the overall LGBT movement, because same-sex marriage would remain legal in that state, and as the saying goes, 'As goes California, so goes the nation.'"
"For the Prop 8 case to have any effect in Georgia, the justices would have to rule on the equal protection merits of same-sex marriage, but it's difficult to predict that result from the tone of the oral arguments," Cleghorn added.
The second gay marriage case the Supreme Court is considering is United States v. Windsor, which is commonly known as the DOMA case because it seeks to strike down the so-called Defense of Marriage Act that has been federal law since 1996. Under current DOMA law, LGBT couples that are legally married in states that recognize same-sex marriage are still denied federal recognition when it comes to taxes and more than a thousand other benefits and protections.
"In the DOMA case, the justices seemed more interested in getting to the merits of whether this was a fair policy to exclude federal recognition of same-sex couples, as opposed to focusing on technical questions," Cleghorn said. "The four liberal justices were very probing in their interrogation of whether DOMA was constitutional, and if they can persuade Justice Anthony Kennedy to their side, we may finally see an end to this egregious law."
While the DOMA case has particular impact in states where same-sex marriage is already legal, it could do more to bring same-sex marriage to Georgia than the Prop 8 case. That's because of the legal potpourri that would be created by having two standards of same-sex marriage: federally recognized but outlawed on the state level.
"If DOMA is struck down, we don't know for certain what that would mean for LGBT Georgians who were legally married in other states," Cleghorn said. "It may likely be that same-sex couples who were married in other states would hopefully be eligible for some federal benefits, but still no state-level benefits."
SOURCE Kitchens New Cleghorn, LLC