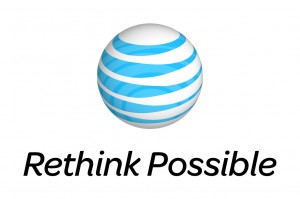 In celebration of Pride season, the AT&T* "Live Proud" campaign is inviting the lesbian, gay, bisexual, transgender and questioning (LGBTQ) community and beyond to take part in an effort centered on awareness, empowerment, and most importantly, pride. In return, AT&T will contribute a minimum of $25,000 and up to $50,000 to The Trevor Project, the national leader in crisis intervention and suicide prevention services for LGBTQ youth.
From April 1 through June 30, participants can join the cause in the following ways:
"Like" the AT&T Live Proud Facebook page and AT&T will donate $1.00 to The Trevor Project.
Retweet an @ATT tweet that mentions #attliveproud and AT&T will donate .50 cents to The Trevor Project. **
Submit an image or story that represents an AT&T "Live Proud" moment to enter for a chance to win an AT&T VIP experience with Adam Lambert. Selected images and messages will be used to create an inspirational video montage in support of LGBTQ youth. Go to www.attliveproud.com for official rules and to enter. ***
Ten selected winners, plus one guest each, will be chosen to attend the AT&T Live Proud VIP experience with Lambert. VIP winners will receive travel accommodations, an exclusive meet-and-greet and private concert.
"I want to encourage LGBTQ youth to live proud and let their voice be heard," said Lambert. "Whether it's changing a status on Facebook or kissing in public, live free."
The Trevor Project is the leading national organization providing crisis intervention and suicide prevention services to LGBTQ youth. In addition to operating the only national crisis lifeline for LGBTQ teens and young adults, The Trevor Project offers unique suicide prevention services to youth in digital spaces, including counseling via instant message through TrevorChat and the largest online social network specifically for young LGBTQ people, TrevorSpace.
AT&T and The Trevor Project will work to enhance Trevor's communications and improve outreach to LGBTQ youth in crisis.
"AT&T recognizes the importance of marketing and respecting all diverse segments, and the LGBTQ segment is no different," said, Jennifer Jones, vice president of diversity markets. "We show our support through our creation of unique marketing campaigns, advertising in LGBTQ media and sponsoring LGBTQ events."
The "Live Proud" campaign will cross the nation this summer as AT&T activates sponsorships at select Pride events. To learn more about the specific sponsorships, visit www.attliveproud.com.
AT&T has a long history of LGBTQ support. Starting in 1975, AT&T became one of the first Fortune 500 companies to adopt a non-discrimination policy toward sexual orientation, and in 1999, one of the first to adopt domestic partner benefits for LGBTQ employees. Since 2004, AT&T has been listed in the Human Rights Campaign (HRC) Foundation's "Best Places to Work" for LGBTQ employees and has received a perfect score on the Human Rights Campaign's Annual Corporate Equality Index (CEI).
Among others, AT&T supports employees with the following:
Health insurance benefits offered to domestic partners beginning in 1999 and, since 2005, to legally recognized partners.
Qualified pre-retirement survivor annuity pension offered to spouses and partners.
Health insurance plan coverage for transition-related treatment of transgender individuals.
Mandatory training for new hires on AT&T's non-discrimination policy, including sexual orientation and gender identity.
Outreach to the LGBTQ community including recruiting, marketing, community involvement and support for LGBTQ equality.
AT&T's efforts to ensure all employees have the opportunity to be fully included in the company's mission is further evidenced by its 11 employee resource groups, which offer opportunities for employees to learn, network, collaborate and develop professionally. All of these groups, including LEAGUE at AT&T – the Lesbian, Gay, Bisexual, Transgender and Allies Organization at AT&T – are supportive partners in AT&T's business. LEAGUE at AT&T was founded by employees in 1987, making it the first LGBTQ employee resource group in corporate America.
Beyond workplace equality, AT&T's products and services also reflect and appeal to the diverse markets the company serves, including the LGBTQ community.  For more information on AT&T's commitment to equality and diversity in the workplace, visit www.att.com/diversity. Follow the "Live Proud" campaign on Twitter using #attliveproud.
* AT&T products and services are provided or offered by subsidiaries and affiliates of AT&T Inc. under the AT&T brand and not by AT&T Inc.
** Like us at AT&T Live Proud or retweet specially noted tweets between April 1 and June 30, 2013, and we will donate $1 or 50¢, respectively, to the Trevor Project, up to $50,000, with a minimum of $25, 000. Limit one like and retweet per person, per account
*** No purchase necessary. Contest ends June 30, 2013. Must be 18 or older (19 in AL and NE, 21 in MS) Subject to official rules at www.attliveproud.com.  Void where prohibited.
SOURCE AT&T Inc.