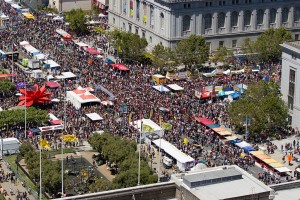 One of the hardest decisions that the board of an LGBT Pride organization has to make is choosing a Grand Marshal for their city's Pride Parade. It is very difficult to satisfy a diverse group of people who have nothing in common with one another but our status as sexual or gender minority members and our common enemies. Previous Pride events have been torn apart by the presence of drag queens, leather folk, socialists, NAMBLA and former West Hollywood, California Mayor Valerie Terrigno. Most Pride boards wisely make noncontroversial choices; honoring long-time couples, celebrities who recently came out, or friendly local politicians.
Nowhere is our community's diversity more evident than in San Francisco, the great gay city by the bay. The epitome of leftist radicalism for much of conservative America, San Francisco wrestles with issues that the rest of us can hardly imagine. (Public nudity?) At a time when, to most Americans, "LGBT rights" means the right to get married, have children, and serve in the military, queer San Franciscans still debate the institutions of marriage, parenthood, and the military. Gay political leaders are attacked as tools of the establishment, while former San Francisco Mayor Gavin Newsom, a staunch liberal and now Lieutenant Governor of the State of California, is denounced by many radical San Franciscans for being in thrall to the City's corporate interests.
The latest issue to stir San Francisco's queer political pot is San Francisco Pride's choice of Bradley Manning to be this year's grand marshal. This choice, if any, was purely symbolic: The openly-gay Manning is currently in military prison, charged with leaking classified material to the whistle blower website WikiLeaks, and cannot lead a Pride Parade even if he wanted to. But symbols can be controversial, though calling Manning a controversial figure would be a gross understatement. Many in the LGBT community believe that Manning is a traitor to his country while many others (myself included) think of him as a political prisoner and a victim of the Obama Administration which, in matters of warfare and civil liberties, is just as bad as the Bush Administration. In any case, Manning is the worst person to put at the symbolic head of an event that is meant to unify all LGBT people and our straight allies. Conservative activists like Stephen Peters of the American Military Partner Association were quick to denounce the decision, noting that "Manning's blatant disregard for the safety of our service members and the security of our nation should not be praised."
Though SF Pride's choice of Manning was bad enough, it made things much worse when it changed its collective mind the next day. Lisa L. Williams, president of the Board, announced that the Manning decision "was a mistake." According to Williams, "a staff person at SF Pride, acting under his own initiative, prematurely contacted Bradley Manning based on internal conversations within the SF Pride organization. That was an error and that person has been disciplined. He does not now, nor did he at that time, speak for SF Pride." Among other things, we learned that SF Pride's grand marshals are selected by its very own "electoral college;" a group "comprised of former SF Pride Grand Marshals." Apparently it was the "college" that chose Manning, a decision that Williams and her Board repudiated.
If Williams thought her decision to throw Manning under the bus would be the end of it, she was sadly mistaken. SF Pride's choice of Manning to be grand marshal angered half of queer San Francisco. It's decision to rescind its earlier choice outraged the other half. Radicals who viewed SF Pride as the puppet of large corporations and the Democratic Party seized on SF Pride's actions as proof of their convictions. Activists Lisa Geduldig and Michael Petrelis demanded that Manning be reinstated as grand marshal. Manning, Geduldig said, "is an antiwar hero, a whistle blower who is gay. He was lip-synching to Lady Gaga while downloading classified documents. It doesn't get more gay than that." "We are fed up with marriage and military concerns sucking the oxygen out of what used to be a queer movement and Pride March and Celebration about social justice for queers," said Petrelis. Protesters picketed the SF Pride office, a score of LGBT leaders ranging from Dan Choi to Susie Bright issued a statement denouncing SF Pride's decision, and a group of 30 or so activists filed a complaint with the San Francisco Human Rights Commission, arguing that the SF Pride Board "repudiated San Francisco Pride's electoral college's selection of Bradley Manning as a 2013 grand marshal for the Pride parade" in violation of the City's administrative codes, arts funding guidelines, board marshal selection policy, and board non-discrimination policy.
Activists of all stripes demand Williams's head on a plate, or at least her resignation. They agree with award-winning writer and journalist Victoria A. Brownworth, who wrote in Advocate.com that "Williams and SF Pride deserve nothing but opprobrium and shame." Though Williams has the right to veto the decision of her "electoral college" it was an incredible blunder to do so. Like other politicians (Mr. President, I'm thinking of you) Williams tried to please everyone and ended up pleasing noone. Though I admire  Manning as a whistle blower and an openly gay man, I would never have chosen him to be grand marshal. However, having done so, I would have kept him. By changing their minds, Williams and her Board seem weak as well as stupid. In any case, San Francisco's LGBT community will surely work out this controversy, as it has worked out so many others in the past, and end up with another amazing Pride Parade. As journalist Linda Ellerbee would say, "and so it goes."
By Jesse Monteagudo