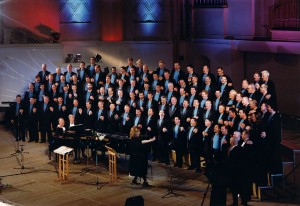 As Sochi, Russia prepares for the 2014 games, and as the international community remains divided about recently-passed anti-gay laws in that country, members of Gay Men's Chorus of Los Angeles (GMCLA) continue to stand in solidarity with their Russian friends as they searched their archives and pieced together a video dedication to the LGBT Community.
In October of 1999, GMCLA traveled to Moscow to perform at Tchaikovsky Hall with famed Russian pop star Alla Pugachova. Nearly 2,000 LGBT persons and their allies filled the concert hall to stand together in harmony as one of the largest ever gatherings of LGBTs in the country. The Chorus sang various songs, including "We Shall Overcome," which is featured in the recently rediscovered footage (Link: http://www.youtube.com/watch?v=JLzXIIyqtB0&feature=youtu.be).
"We stand with our brothers and sisters in Russia who face unspeakable discrimination and violence as they fight for their lives and rights to live openly and freely," expressed Chris Verdugo, Executive Director of GMCLA. "We're honored to share this video footage with the world and to show that the Russian people are good, and that we can come together with song to celebrate our differences. And just as the LGBT Community has done time and again, we shall overcome."
The video features a performance by GMCLA, a solo by Alla Pugachova, arrangements by David Maddux, artistic direction by Dr. Jon Bailey, video by James Roman and footage by Craig Coogan.
Gay Men's Chorus of Los Angeles (GMCLA)
GMCLA has garnered international acclaim for artistic excellence while remaining deeply rooted in service to the Los Angeles community and beyond by promoting civil rights, tolerance and acceptance through music. Founded in 1979 during the emergence of the gay civil rights movement, critics have proclaimed the chorus "inspired," "expressive, innovative, and utterly moving," and hailed it for presenting "meaningful entertainment." It is one of the largest and most influential men's choruses in the nation, is the first gay men's chorus to perform for a sitting president – Bill Clinton – and has also performed for President Barack Obama. The 220-member chorus has toured nationally and internationally, released 15 compact discs, commissioned more than 300 new works and arrangements and has guest starred on such TV shows as "$#*! My Dad Says," starring William Shatner, "Will & Grace" and "Six Feet Under." In October 2010, it produced an anti-bullying musical video message for the "It Gets Better" project featuring Cyndi Lauper's moving anthem "True Colors," quickly becoming a viral sensation that has received more than 700,000 hits to date. GMCLA, which performs at such venues as Walt Disney Concert Hall, the Alex Theatre, and the Saban Theatre, presents several concerts each season in Los Angeles, including its popular annual holiday concert, which featured such music legends as LeAnn Rimes and Melissa Manchester. Additionally, GMCLA has received accolades for its "Alive Music Project" (AMP), a unique music education outreach program designed for middle and high school students that uses song to create a powerful anti-bullying message and also highlights the reality that our community's struggle for equal rights is not only universal, but an issue that has and can affect any group of people who find themselves in the minority. (www.gmcla.org)
Multimedia Assets associated with this release:
Video: http://www.youtube.com/watch?v=JLzXIIyqtB0&feature=youtu.be
SOURCE Gay Men's Chorus of Los Angeles (GMCLA)